Like any other professionals in the healthcare field, dentists also took an oath to provide the best possible care to their patients: to keep our oral health in good condition and free from any oral diseases. Dentists are licensed to perform different procedures to maintain the cleanliness of our teeth, prevent gum diseases, and manage our overall oral healthcare needs. Surely, they all have the necessary skills and expertise to fulfill their sworn duties. However, not all of them have the capabilities when it comes to describing their competencies on a dentist resume.
If you're a dentist who is looking for effective tips on how to create your own resume, you're in the right place. Heed these tips in writing your dentist resume to keep your copy clean and free from any mistakes.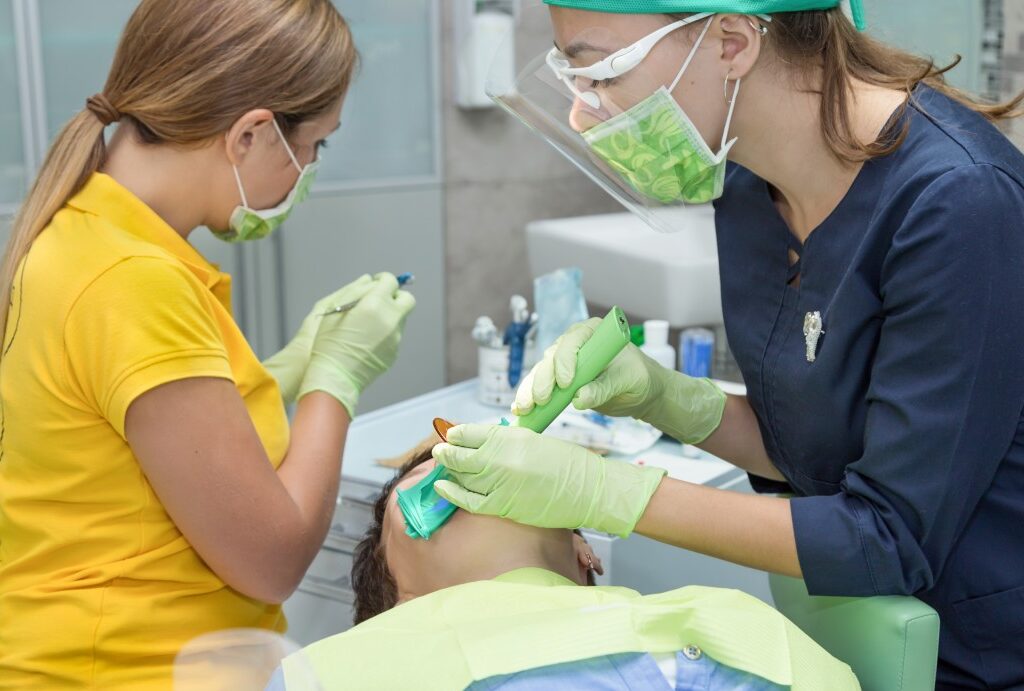 Tips in Writing a Dentist Resume
Do you know that some of the principles in taking care of your patients' oral health are quite similar to crafting a dentist resume? Want to know their comparison? Read on.
1. Design a layout as clean as your patient's teeth.
When your patient's teeth are not cleaned properly, it could lead to tooth decay and gum diseases, right? The same goes with your resume. A cluttered layout could kill your hiring chances. Why? Physical appearance and layout are the first things that hiring managers notice in a resume. Hence, make sure that your dentist resume displays an eye-catching appearance that will blow your competitors out of the water. This involves being keen with your use of margins, length, and font size.
2. Fill in your resume with applicable sections like a complete set of tooth structure.
In order to restore the function, integrity, and morphology of missing tooth structure, dental filling is the procedure you perform. Likewise, when it comes to resume writing, resume sections play an integral role in your job search. This prevents the subsection from getting mixed up with the details included on your application document and completes an effective dentist resume. Wondering what these sections are? See below for more.
Header
Starting with your header, make sure to grab the hiring managers' attention by including your full name, complete mailing address, contact number, and professional email address. You may also include your LinkedIn profile URL and website, if you have them. Furthermore, putting your relevant licenses and certifications could increase your hiring chances.
Summary/Qualifications Profile
Instead of indicating your objective statement, highlight your knowledge, skills, and qualifications using resume summary section. With this, you're giving the hiring managers a sneak peek of what you can contribute to their dental clinics.
Areas of Expertise
Since most of the companies are streamlining their recruitment process, hiring managers use applicant tracking systems (ATS) to screen and select qualified candidates. This section serves as the keyword-rich area wherein you mention all industry-specific terms you're skilled in and knowledgeable of. Including an 'areas of expertise' section on your resume increases the chances of your dentist resume showing up in their search results.
Education
Aside from work experience, potential employers also assess job hopefuls based on their educational background. Hence, make sure to include your relevant education, GPA (if it's 3.5 and above), completion dates, and honors and recognition you've received. You may also mention the affiliations you're involved with during your time in school. Take note, however, that including your relevant coursework and high school information is highly discouraged.
Experience Section
This is where you showcase your work experiences—relevant or not. Experience section consists of your job positions, company names and their locations, and the inclusive dates. Additionally, this section mentions your daily job descriptions and highlights your accomplishments. In doing so, use of data and metrics adds value to your application and helps you stand out among other applicants.
In a dentist resume, experience sections vary depending on the nature of your job. You may categorize your work experience accordingly using leadership, medical, research, teaching, and observership sections.
Professional Development
Attended relevant trainings, conferences, and workshops? Obtained licenses and certifications? If so, include them on your dentist resume without hesitation. Employers need to know you're equipped with the training and credentials required to fulfill the responsibilities in the field.
Awards and Honors
Are you an achiever who has earned awards and honors? Flaunt them on your resume, regardless of the industry where you've received them.
Professional Affiliations
Indicating membership in industry associations on your dentist resume is a plus.
Activities/Community Involvement
Do you maintain active involvement in different community outreach initiatives? You may want to include them. However, citing your hobbies and interests is not recommended.
Technical Acumen/Skills
The dentistry field has been relying on technological advances in the recent years to provide the best oral healthcare to patients. Hence, listing down your computer and technical competencies on your resume could also impress potentials employers.
3. Apply industry-specific terms as toothpaste on your resume.
Applying toothpaste in our toothbrush helps remove food debris and plaque from our teeth and gums. When writing your dentist resume, using and sprinkling keywords throughout your application document help you maximize its chances to show up in hiring managers' search results. Aside from impressing potential employers, putting industry-specific terms on your resume could also beat the ATS. Created and implemented treatment plans? Educated patients on dental care? Performed root canals for nerve and pulp issues? Diagnosed and treated oral infections and other problems? Mention them like an expert!
4. Brush up and shine your resume using the best resume format.
One of the best ways to prevent dental and oral health problems is brushing our teeth. Just like in resumes, using the best resume format could prevent your job application from rejection. When you properly highlight your qualifications, skills, and experience on you resume, there's no doubt that you'll outshine the rest and stand out from your competitors.
5. Reexamine.
After treating your patients' teeth, you advise them to visit your clinic after a month or two, depending on its cases. This is to know if there's an improvement after the last procedure you performed. Same with resumes, after writing your document, make sure you proofread them. Check if there are grammatical errors, inaccurate details, and incomplete information.
Dentist Resume Sample
To give you an overview of how dentist resume is written, here's a dentist resume sample created by one of our expert healthcare resume writers.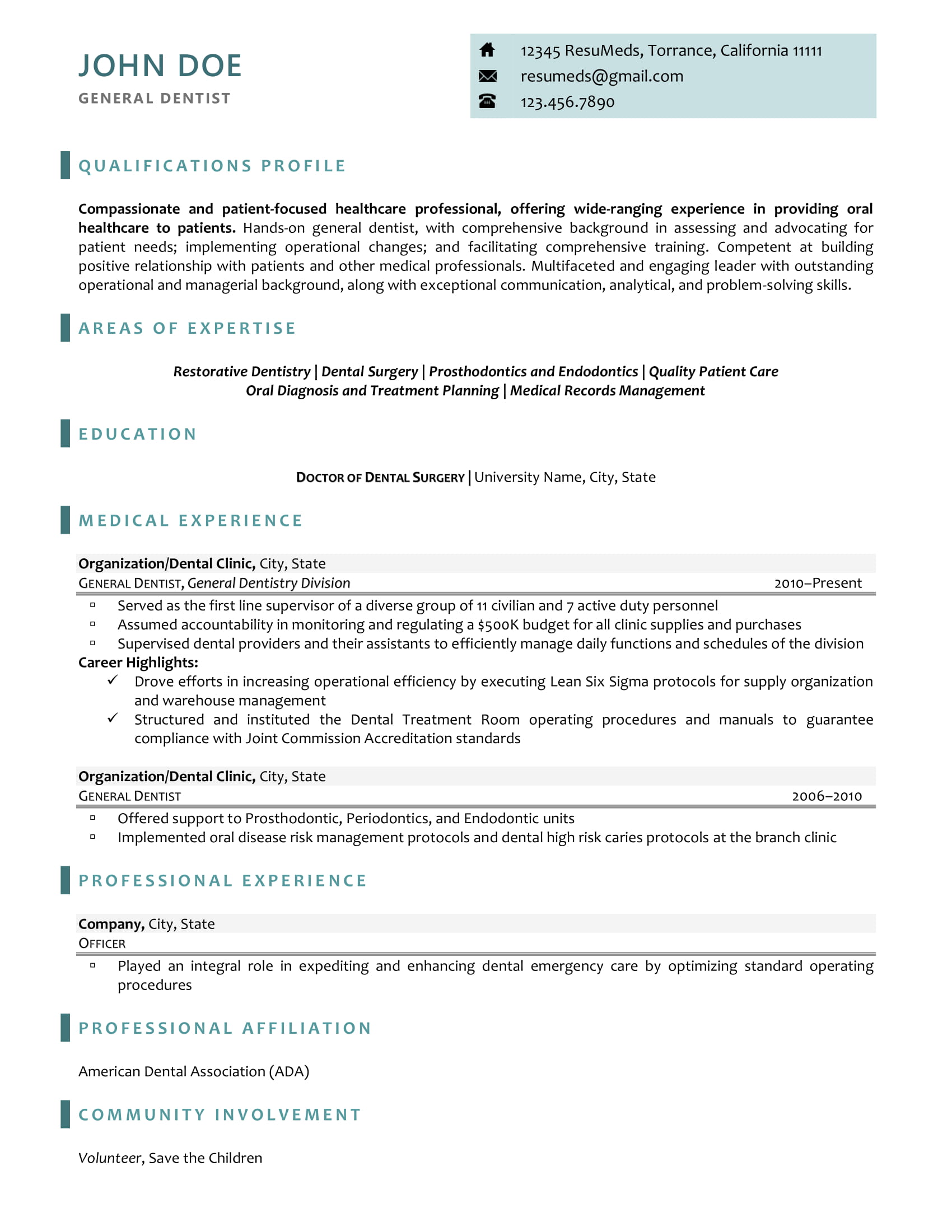 Dentistry Statistics: An Overview
According to the American Dental Association (ADA), there has been a substantial increase in the supply of dentists in the US from 2001 to 2020. As of 2020, there are 201,117 dentists across the country, wherein 65.5% are male dentists and 34.5% are female dentists. Out of 201,117 dentists, 17% are ages under 35; 24% are ages 35 to 44; 21.6% are ages 45 to 54; 21.1% are ages 55 to 64; and 16.3% are ages 65 and older. ADA also recorded that the five states with the highest employment for dentists in 2020 are California with 31,059; Florida with 11,296; Illinois with 8,657; New York with 14,479; and Texas with 15,872 dentists respectively.
Furthermore, the U.S. Bureau of Labor Statistics (BLS) projects that the overall employment of dentists will boost by 3% from 2019 to 2029, and the demand for dental services will also increase as the population ages and as research continues to link oral health to overall health.
With these data, there's a higher chance that you'll get a career in the field. But before you achieve that, make sure your dentist resume stands out among other job hopefuls. Take note that even if you have the necessary skills, knowledge, and training, hiring managers won't be able to see and recognize them unless you're able to secure an interview.
Getting Ready for Surgery?
After reading the tips in writing a dentist resume, you're now ready to create your own resume! But if you're still not confident in crafting your resume, don't hesitate to seek the help of expert healthcare resume writers! Just as dentists need to perform several procedures to keep our oral health in good condition and free from any oral diseases; we at ResuMeds will also apply resume writing standards to keep your copy clean and free from any mistakes.