Ever wondered about a career that mixes skincare, self-care, and success? Look no further. Esthetics, the art of skincare, is booming and set to grow by a whopping 17% from 2021 to 2031. This is way more than the average 5% for most jobs, according to Bureau of Labor Statistics (BLS). What's driving this growth? Easy: the timeless desire to stay youthful and live healthier lives.
However, as the demand for this post grows, so does the competition. Therefore, if you are serious about working in this industry, you need to create an impressive esthetician resume that will convince employers that you are the most qualified candidate.
No idea how to make one? Read on because in this blog, we will talk about the captivating world of esthetics, reveal why this healthcare career is a rewarding career choice, and help you write an esthetician resume that can boost your chances of securing a fulfilling career in the world of beauty and wellness. Read on.
What Does an Esthetician Do?
An esthetician is a skincare specialist who focuses on nourishing and enhancing the vitality and radiance of the skin. With a professional license, these experts practice their profession in a variety of settings, including soothing spas, luxurious salons, and even prestigious medical clinics.
Aestheticians are in charge of negotiating the complexities of cosmetics and providing a range of transformative services. These include the art of rejuvenating facials, deft hair removal procedures, and the use of regenerating chemical peels. Each treatment is precisely tailored to the exact needs of each client, while taking into account aspects such as skin type, age, and any underlying medical concerns.
Aside from treatments, estheticians can offer vital advice on skin health and appearance. They work as guides in matters concerning skincare, assisting clients in selecting the correct products and regimens for more vibrant and healthier skin. Estheticians also play a critical role in promoting skin health and enhancing natural attractiveness by combining skill and guidance.
What is an Esthetician Resume?
An esthetician resume is your ticket to showcasing your unique blend of beauty knowledge, skincare experience, and customer relations. It is where you artistically paint your professional journey, stressing your aesthetic abilities, qualifications, and experiences. It's like a radiant reflection of your commitment to self-care and your passion for making others feel and look their best. It also serves as a record of your transformation, from your first facial to the complex techniques you've mastered through time.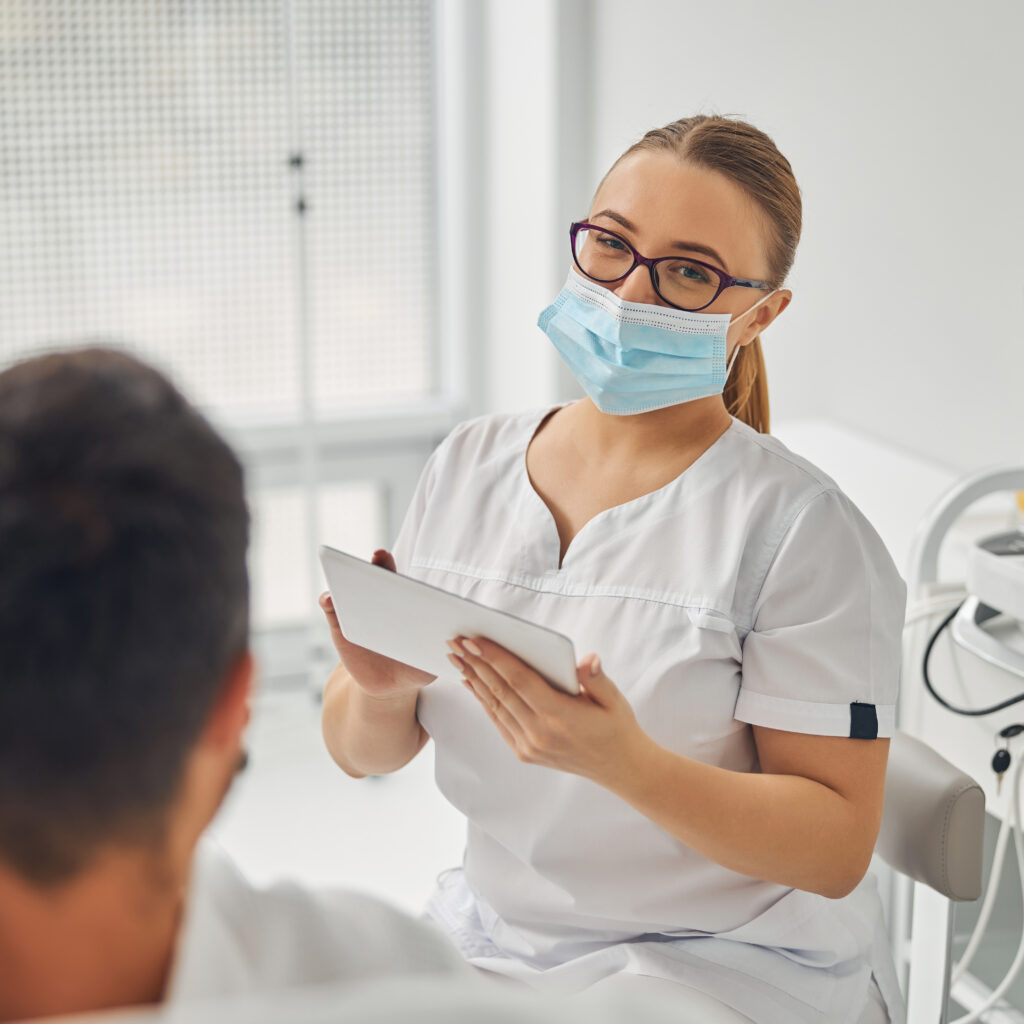 How to Write a Resume for Esthetician
Crafting an esthetician resume is your first step toward the professional world. And just as you are enthusiastic about discovering and learning about new skincare trends and products, you should be equally enthusiastic about preparing your application. Your esthetician resume should shine as the secret remedy that opens doors to exciting possibilities in the vibrant world of beauty and wellness.
To accomplish this feat, follow the steps below to create a resume that outlines your qualifications:
1. Craft a strong profile summary.
Start your resume with a brief yet powerful resume summary. Present three to four specializations that are appropriate for the position, such as infection control, allergy testing, and safety measures. This area needs to leave a good first impression and should emphasize your pertinent talents.
2. Incorporate resume skills section with relevant abilities and keywords.
Use a range of pertinent keywords and abilities in the skill section of your resume. Including these boosts your chances of passing initial screenings because applicant tracking systems (ATS) frequently filter resumes based on them. These keywords should be customized to the job description.
3. Highlight your accomplishments in the professional experience section.
Add a professional history section that details prior employment and includes details like the date, employer, and position. Add your prior responsibilities while putting an emphasis on your professional accomplishments. Make sure to highlight your knowledge of numerous skin care and hair removal techniques so that you can choose the right ones for clients. Use quantifiable measurements to illustrate the breadth of your achievements.
4. Showcase your education and additional credentials as an esthetician.
Include an education section that comprised information on your diploma, academic accomplishments, and the institution you graduated from. You might also want to think about listing any state licenses and certifications you may have, such as facial treatments, threading, waxing, or laser hair removal. With the help of these qualifications, you may prove that you're dedicated to developing your professional skills and honing your knowledge of particular procedures.
5. Incorporate additional sections as needed. b
Depending on your background, you may want to include sections like "professional memberships," "awards," or "Volunteer Work" if they are relevant to the position.
Special Esthetician Skills to Put on Resume
When creating your esthetician resume, be sure to emphasize the abilities and qualities that are directly related to the profession and the beauty sector. To help you with this, here is a list of specialized skills and abilities that you may wish to add in your esthetician resume:
Top Esthetician Skills
Skin Analysis and Assessment: Demonstrate your ability to analyze clients' skin types and conditions to recommend suitable treatments and skincare routines.
Facials and Treatments: Detail your skills in performing various facial treatments, such as cleansing, exfoliation, extraction, mask application, and massage techniques.
Chemical Peels and Microdermabrasion: Emphasize your experience with advanced skincare techniques like chemical peels and microdermabrasion to address specific skin concerns.
Waxing and Hair Removal: Provide hiring managers with insight of your abilities in performing waxing and hair removal procedures for different areas of the body, ensuring client comfort and safety.
Makeup Application: Highlight your proficiency in applying makeup for various occasions, understanding different skin tones, face shapes, and makeup trends.
Acne and Problematic Skin Management: Indicate your expertise in addressing acne-prone and problematic skin conditions through customized treatments and product recommendations.
Spa Equipment Operation: Exhibit your proficiency in handling and operating various esthetician equipment, such as steamers, extraction tools, and high-frequency machines.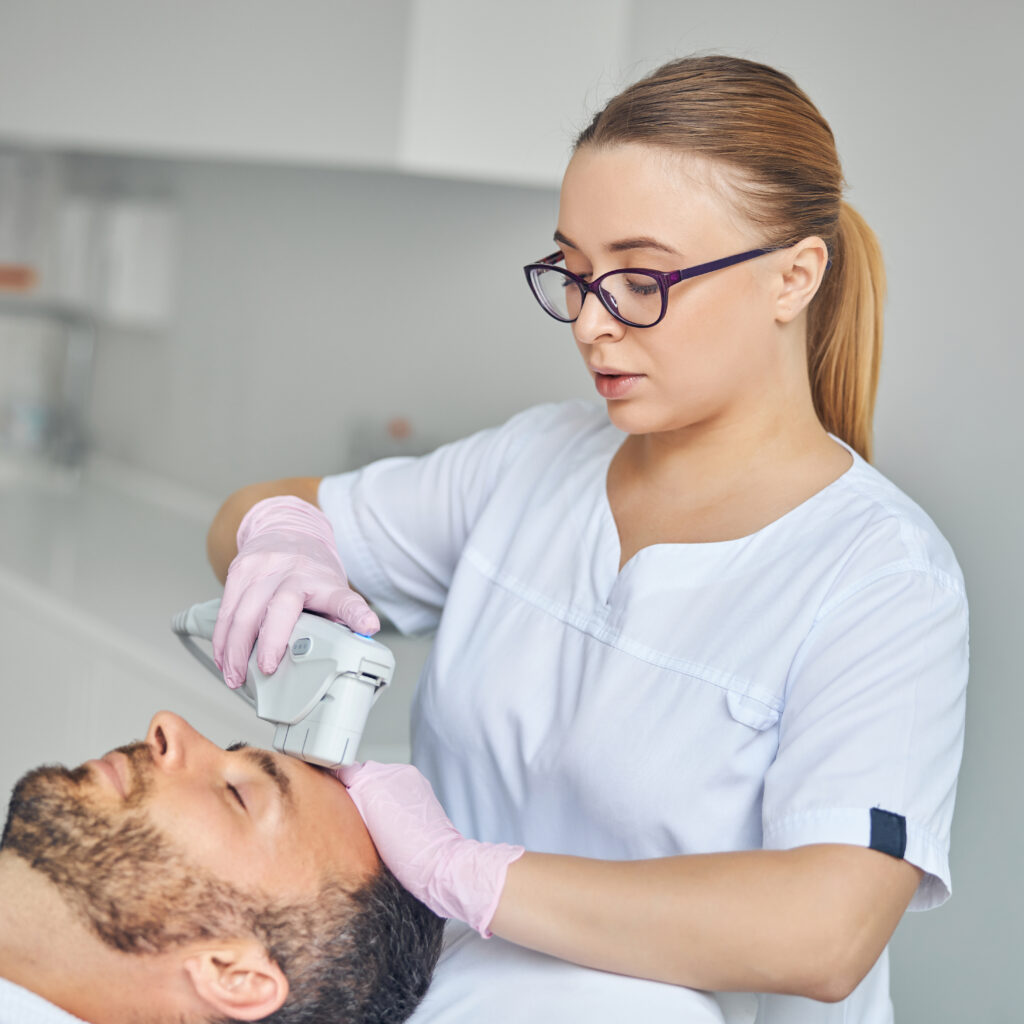 Additional Skills
Time Management: An ability that conveys your effectiveness in organizing appointments, providing prompt services, and ensuring client satisfaction.
Communication Skills: Show your strong interpersonal and capability to build rapport with clients, understand their needs, and explain treatments clearly.
Client Education and Counseling: Demonstrate your adeptness in conducting thorough consultations and educating clients about skincare routines, best practices, and post-treatment care to achieve optimal results.
Sanitation and Sterilization: Showcase your strong understanding of proper sanitation and sterilization procedures to maintain a clean and safe treatment environment.
Upselling Skills: Display your experience in recommending skincare products to clients, demonstrating persuasive communication and upselling skills.
Esthetician Resume Tips
1. Use a clean and professional format with easy-to-read fonts.
Your esthetician resume will look more professional, be easier to read, and have a greater visual impact when it is written in a professional format with readable fonts. It also increases your chances of getting an interview and, ultimately, the job.
2. Keep your resume concise.
By keeping your esthetician resume concise, you can leave a great first impression on hiring managers and increase the likelihood that you'll be given additional consideration for the position. Maintaining a good resume length also respects the recruiter's time and gives greater possibility that you will be noticed among the other candidates.
3. Use bullet points to make your resume scannable.
Using bullet points to break down the content of your esthetician resume improves readability and makes it easier for employers to find your most important traits. Additionally, using bullet points provides a well-organized way to demonstrate your abilities to provide your clients with services and solutions.
4. Tailor your resume to align with the requirements of your desired role.
Just as you analyze skin types to recommend the perfect regimen, you should analyze the job posting to craft the perfect portrayal of yourself as the ideal candidate.
5. Proofread carefully to eliminate any spelling or grammatical errors.
In addition to demonstrating your professionalism and attention to detail, carefully proofreading your esthetician resume will ensure that your talents and experiences are effectively presented, increasing the likelihood that you will make a favorable impression on potential employers.
Esthetician Resume Example
If you're ready to craft your own esthetician resume, take inspiration from this resume sample to kickstart your creative journey: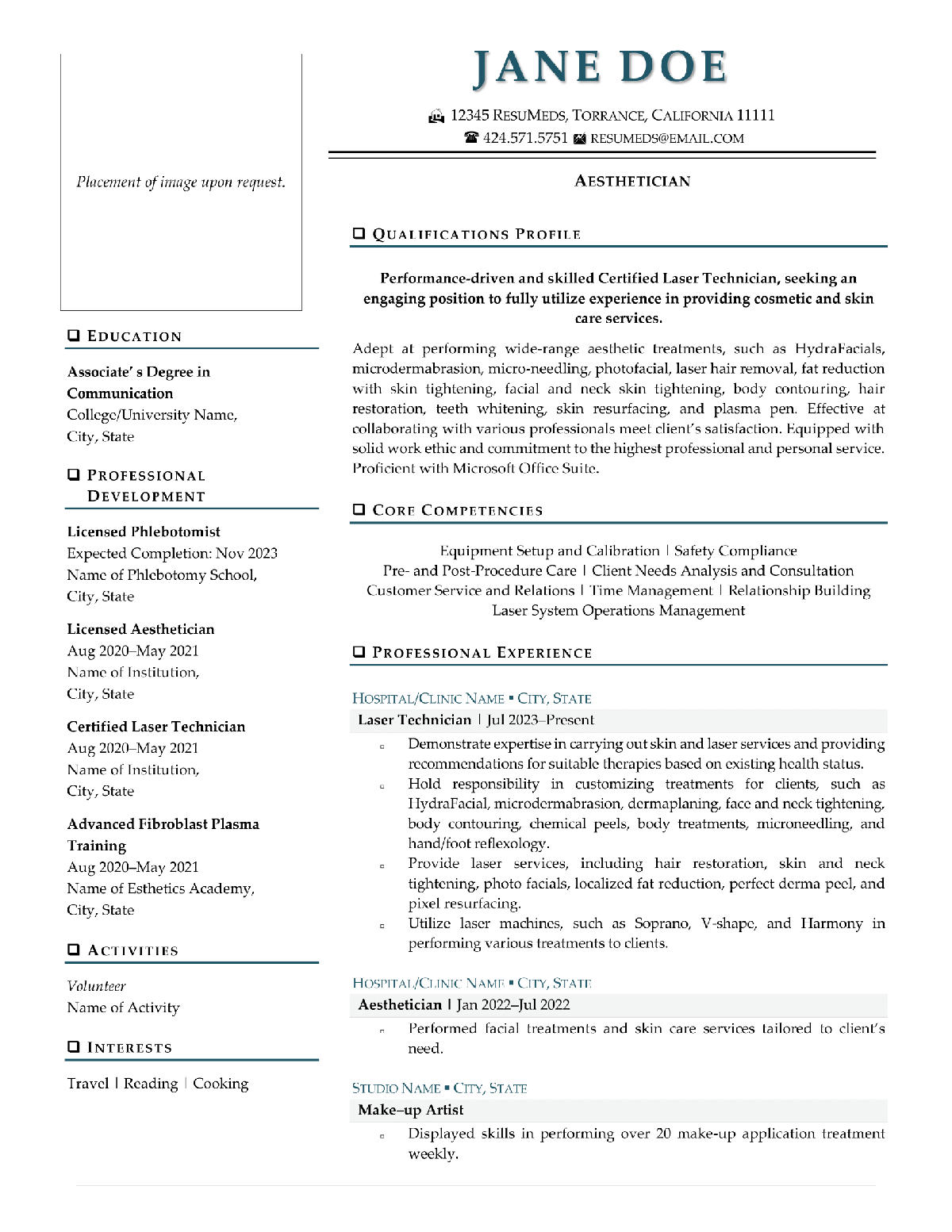 Craft Your Esthetician Resume with the Help of Medical Career Experts!
Elevating your esthetician career through a meticulously-crafted resume demands a blend of creativity and strategy, which makes it more difficult. If you're having trouble putting together your application, spare yourself the trouble and ensure your skills stand out by hiring competent resume writers and career consultants. These professionals ensure that your resume and cover letter are one-of-a-kind, and effectively display your abilities and qualifications to a tee.
Contact us today to learn about our medical resume services and step confidently into the world of skincare as a skilled esthetician.