In the competitive field of healthcare, a well-crafted resume is your passport to securing a rewarding role as a medical billing specialist. Your resume serves as the first impression for potential employers, highlighting your qualifications and capabilities. It's not just a list of work experiences and education; it's also a powerful marketing tool that can open doors to exciting career opportunities in the industry. In this article, you'll have an idea with the help of our medical billing resume example how to stand out from the crowd.
A good medical billing specialist resume typically highlights skills in accounting, communication, accuracy, and IT. Therefore, if you want to work in this field, make sure to include your accounting degree or a related qualification on your resume.
What Does a Medical Billing Specialist Do?
In the big industry of healthcare, there's a vital role that often stays in the shadows but is crucial for keeping things running smoothly. It's called medical billing and coding, and it involves a range of tasks, like making sure patient info is accurate, sending bills to insurance companies, and tracking payments.
These professionals also investigate and appeal denied claims and help patients create payment plans. Plus, they manage the billing software. They're the unsung heroes of healthcare, ensuring the financial side of things stays on track while patients get the care that they need.
Job Outlook of Medical Billing Specialists in the US
A rising proportion of the population is entering the elderly demographic, typically needing heightened use of medical services. Concurrently, there is an escalating incidence of chronic ailments such as heart disease and diabetes. That said, there will be a need for medical records specialists in charge of converting patient data and healthcare services. Medical billers will render the data into standardized codes, serving purposes including insurance reimbursement.
Nevertheless, the surge in the adoption of AI-enhanced solutions designed to streamline the medical coding process may potentially impact the demand for these professions. If you're a medical billing specialist, no need to fret. According to the US Bureau of Labor Statistics, the medical billing and coding sector is projected to experience a 15% expansion through 2024. This resulted in nearly 30,000 job opportunities emerging over the next seven years.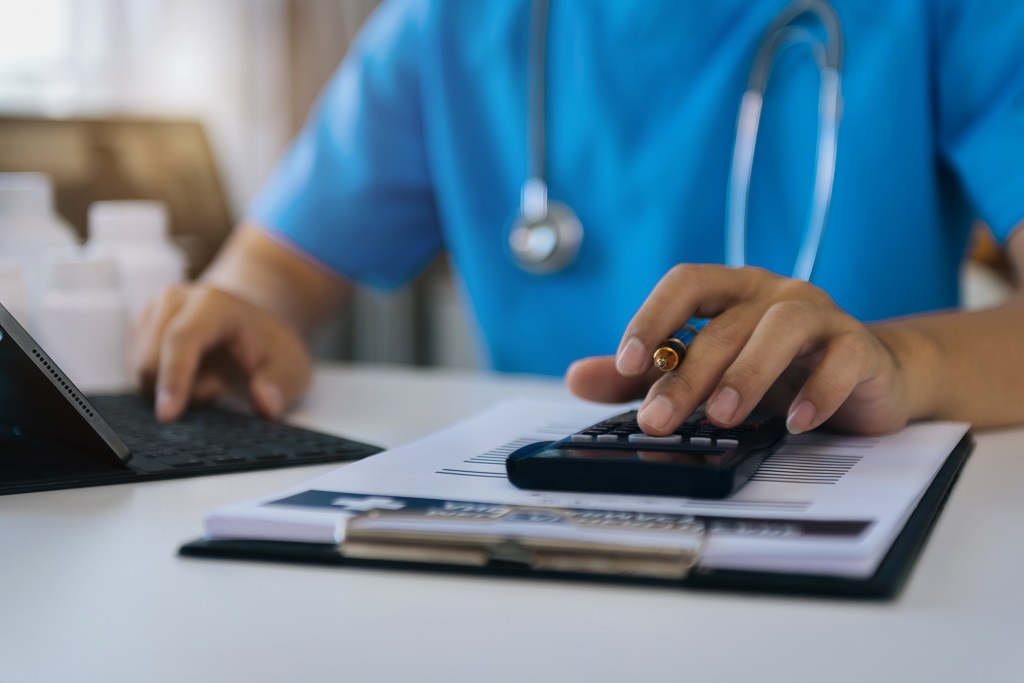 What is a Medical Billing Resume?
Considering the job outlook of this profession, an accompanying job search document is needed to secure a rewarding position. A well-written medical billing resume outlines the qualifications, skills, and experience of an individual seeking a job in the field of medical billing and coding. This type of resume is typically used by job seekers to apply for positions in medical billing offices, healthcare facilities, insurance companies, or outsourcing companies that handle medical billing and coding services.
How to Write a Medical Billing Resume with Experience
To get noticed by hiring managers, the strength of your medical billing resume is fundamentally shaped by your technical proficiency, as evidenced by your knowledge and work history. It is imperative that your qualifications surpass those of competing candidates, and one effective strategy to achieve this is to enumerate supplementary job description in bullets.
Moreover, a diverse array of skills can substantially improve the skills section of a healthcare-oriented resume. These include technical acumen and computational expertise along with hands-on experience in billing.
1. Write a unique profile summary.
Start with an attention-grabbing hook, highlight what sets you apart, your achievements and impact, showcase your personality, and tailor it to the needs of the employer. Moreover, be concise, include industry-specific keywords, proofread meticulously, and seek feedback for improvement. In short, a successful summary should reflect your professional qualifications, convey your personality, and leave a memorable impression on readers.
2. Add your work experience.
To bolster your medical billing resume effectively, present your experience strategically. Begin by listing your recent roles first, list quantifiable accomplishments like risk and error reduction and revenue growth. Showcase your expertise in medical coding, claim processing, and relevant software. Showcase your interpersonal skills in patient and insurer interactions.
3. Include your education.
It's essential to follow a strategic approach to showcase your qualifications effectively. Put education right after your contact information and summary statement. Include the name of the institution, degree earned. As an example, follow this format: Associate's in Medical Billing and Coding or Bachelor's in Health Information Management, and graduation date. If you achieved any notable honors or distinctions, such as cum laude or dean's list recognition, be sure to mention them.
4. Make sure you know what recruiters look for.
When writing a medical billing resume, it's vital to add your skills clearly for prospective employers. Focus on your ability to act as a bridge between insurers, medical officers, and patients. This will show your effective communication and problem-solving skills. Also, mention your skill in accurately coding medical services, diagnoses, treatments, and other essential details, your commitment to precise billing. By doing this, you'll present yourself as a valuable candidate in the medical billing field.
How to Write a Medical Billing Specialist Resume with No Experience
Submitting a compelling medical billing specialist resume with no experience requires you to focus on your relevant skills, education, and any transferable experiences. Moreover, you need to convey your genuine passion for the field and a strong desire to learn and grow within it. Here are the things to keep in mind which are present in medical billing resume examples:
1. Add a resume summary focused on why they need you.
Begin with a brief statement that summarizes your career goals and enthusiasm for the role. Mention your commitment to accuracy and attention to detail, essential qualities for a medical billing specialist.
2. Make your education the first thing recruiters notice.
You can mention your education early. Your education is your foundation. Begin your resume by showcasing your academic achievements. For instance, if you hold an Associate's degree in Medical Billing and Coding, mention it, along with the name of the institution, location, and graduation date. Highlight any relevant coursework and certifications you've obtained. Potential employers need to see that you've received the necessary training.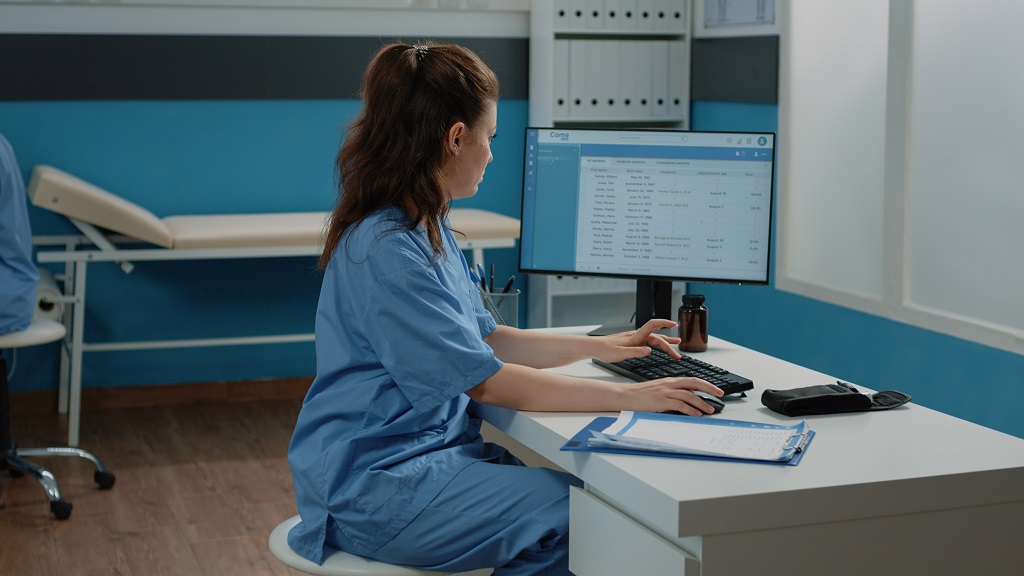 3. Add projects related to the field.
If you've completed any projects related to medical billing during your coursework or training, describe them briefly. Explain how these projects allowed you to apply your knowledge practically, thus preparing you for real-world scenarios. For instance, if you completed a project involving simulated billing, detail your role, the challenges you faced, and the outcomes achieved.
4. Leverage volunteer or internship experience.
While you may not have professional experience, consider any volunteer or internship stints, even if they weren't directly related to medical billing. Emphasize transferable skills such as attention to detail, communication, and your familiarity with medical terminology. Employers value these qualities.
What Skills to Put on a Resume for Medical Billing Specialist
Employers seeking medical billing specialists have diverse requirements and expectations. Knowledge in three foremost aspects — insurance, claims processing, and customer service — serves as the fulcrum through which your medical billing skills will ultimately be measured.
Doing well in a job is about more than just showing up and doing tasks; it also depends on having certain qualities, personality traits, and skills that make you a good fit for the job. If you're thinking about moving into the medical billing and coding field and aren't sure what skills you need to work on, we're here to help you figure it out.
1. Strong Understanding of ICD Codes
When emphasizing your ICD coding proficiency on your medical billing resume, it's important to be specific and results-driven. Mention the coding systems you're familiar with, such as ICD-10 or ICD-11. Then, provide concrete examples of your impact, such as "reduced claims denials" or "improved reimbursement rates."
2. Basic Bookkeeping Skills
Highlight your proficiency in essential bookkeeping principles, emphasizing meticulous data entry, ledger management, and financial reconciliation. Showcase your knowledge of medical billing codes, insurance claim processing, and regulatory compliance. Make sure to include relevant software you know.
3. Attention to Detail
Being careful and paying close attention to every little detail is important, not just when taking care of patients, but also when dealing with billing and coding. Making mistakes can cause patients to lose money, get stressed out, and can also waste your time. Therefore, your attention to detail is what employers want when hiring staff. Being organized helps ensuring that insurance and billing are aligned, and that claims get paid on time.
4. Identifying Financial Discrepancies
Medical cashiers and billers hold significant roles in a company's financial team. They carry out important tasks such as regularly reviewing the company's financial records to ensure accuracy and identify any errors. They also oversee the processing of insurance claims to ensure they are handled correctly.
Medical Billing Resume Example
With the competitiveness of the market, every minute counts to ensure career success. Therefore, we have come up with a medical billing resume example that catches the eye of hiring managers and increases your chances of securing the medical billing position you're after.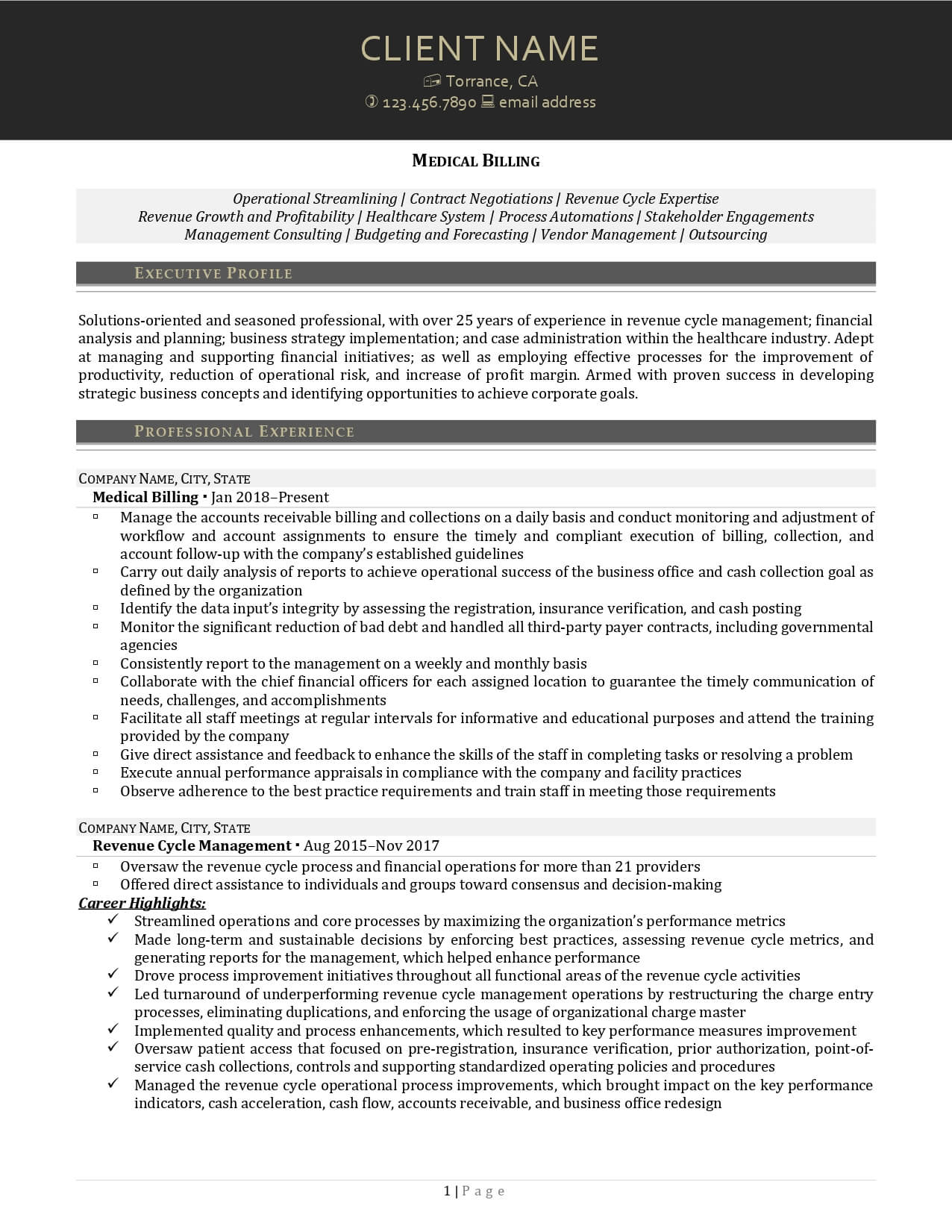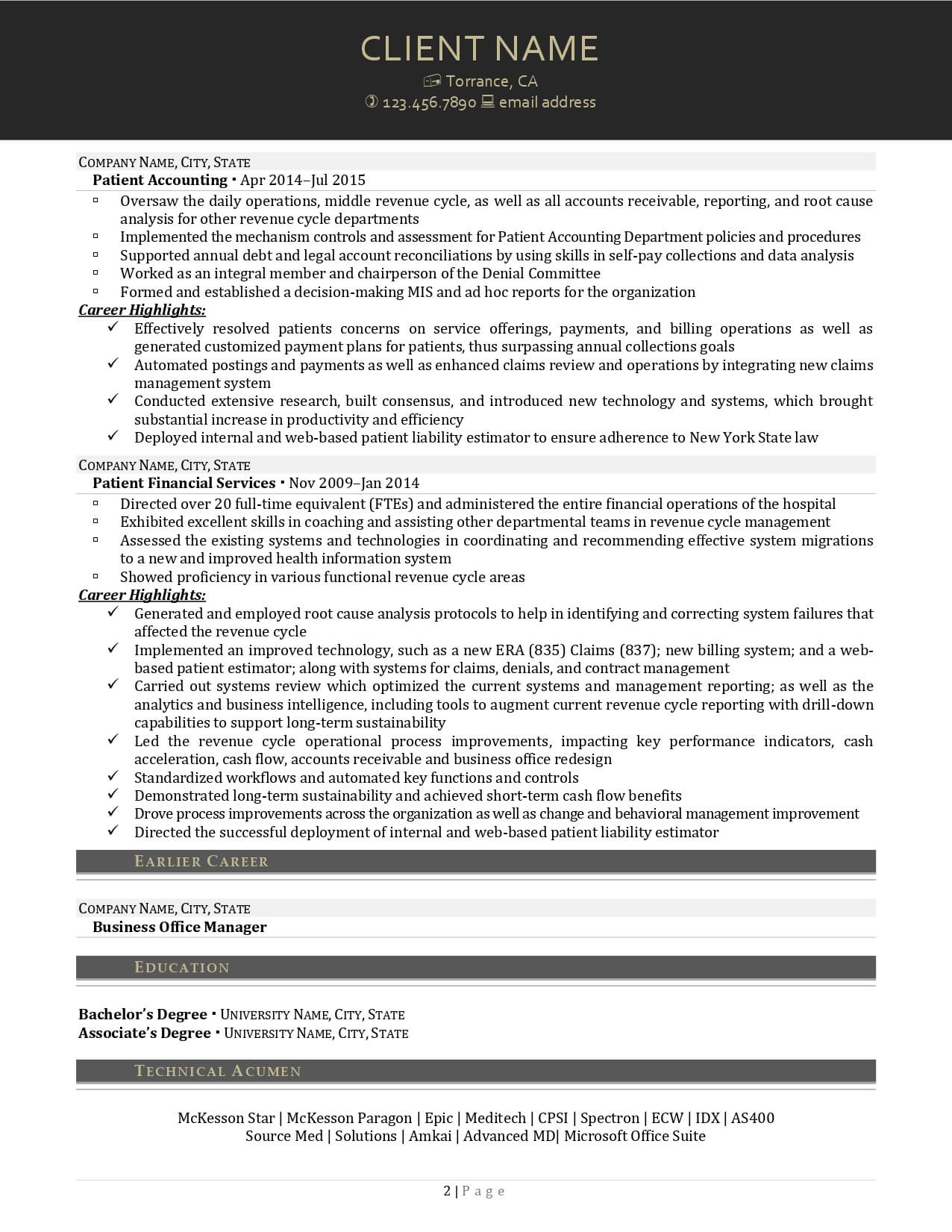 Present Your Qualifications in a Medical Billing Resume that Recruiters will Pull from the Pile
Don't let your resume hold you back because of your resume. Take the first step toward a brighter future by communicating your expertise on paper. Let our professional resume writers translate your technical skills in a way that recruiters will want to hire you. Your dream job is within reach, let's make it a reality. Discover how we can help you land your next opportunity. Your success is our mission! Contact us today or get started in one click!