When you tell you're a pharmacist, do you feel like an instant star? People ask for your advice on which medicines to take or whether you have a better brand compared to what their doctor prescribed. Did you know that you also belong to the elite few? Indeed, there are only 321,700 pharmacist jobs available in the US, as per the 2019 Bureau of Labor Statistics report. Do you want to fit the bill of a medical expert in the field? Start with your pharmacist resume! However, don't just rely on any online remedies; check them first for accuracy. Let the experts from ResuMeds help you do just that when you check out our pharmacist resume example!
Sample Pharmacist Resume: A Closer Look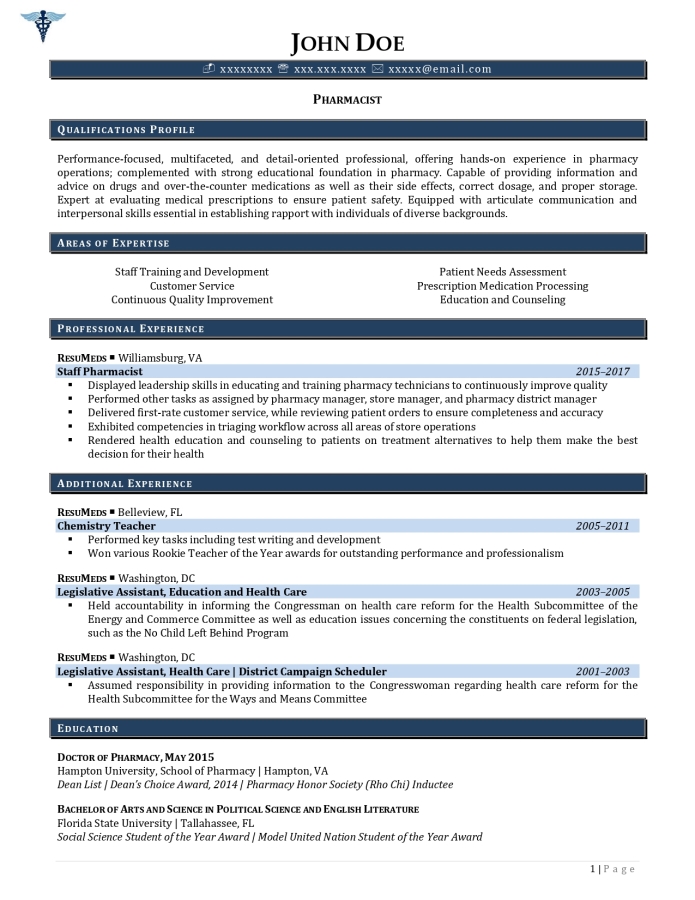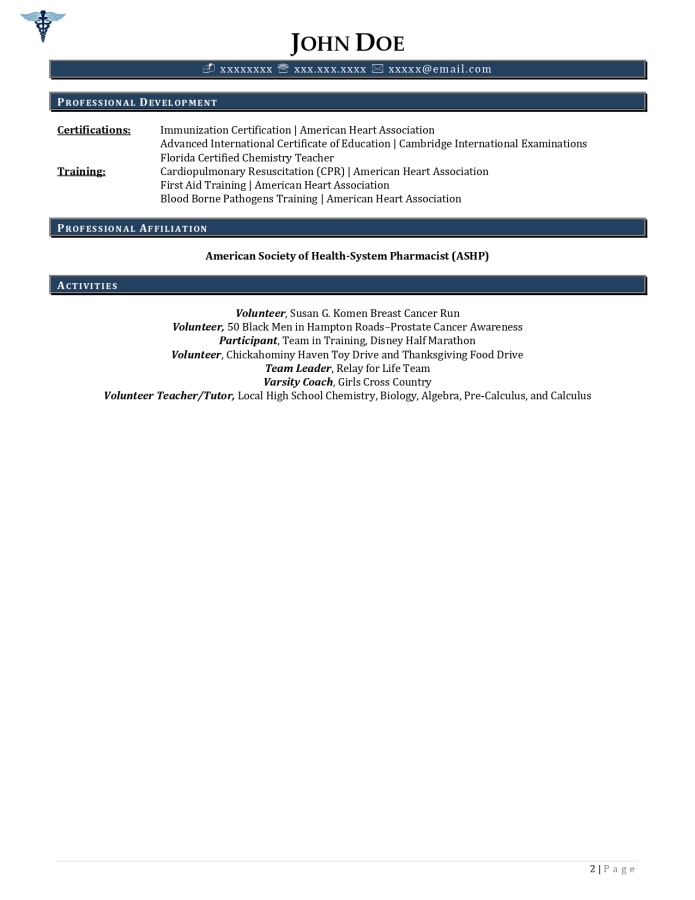 Examine our pharmacist resume example. Compare and see how your resume differs or coincides with our template. Do you think you have missing vital info that prevents you from acing your target pharmacist job? Read on to discover how to improve yours!
Common Pharmacist Job Description
Are you a pharmacy technician who aspires to climb up the career ladder and become a pharmacist? Then you must first familiarize yourself with their various duties to succeed in your career journey. To help you with that, here are some of the most common pharmacist job description roles you must know.
1. Disperse medicines
Any aspiring pharmacist must know this golden rule in pharmacy. Dubbed as the 3Rs—this means that before giving medicine, you must have the right drug, the right patient, and the right dose for every transaction you will handle.
2. Communicate to prescribers
If you need to clarify a patient's treatment, it's best to review it with the person who gave it. Do you need to check the dosage, or recommend a generic? Let the prescriber know about it.
3. Ensure patient safety
Before you give any prescribed drug, check first the patient's medication records, especially when he gets a new treatment. By doing this, you can prevent the dangers of mixing drugs which may bring harmful effects to your patient's health.
4. Counsel patients
Your job doesn't end in providing medications. You must also instruct your patients on how to take the right dosage at the right time and even how to minimize its side effects.
5. Work with patients on overall health
Pharmacists aren't only involved in treating sick patients. You can also help them prevent future illnesses and keep them in their best shape. Instead of giving them medicines, you can give them supplements, non-prescribed drugs, and even help them maintain a good diet.
6. Deal with insurance firms
Payment from the patients isn't always clear-cut. Hence, you may need to liaise with insurance firms to ensure that their payment and coverage details are secured.
7. Manage staff
May you be a hospital pharmacist or a community pharmacist; managing staff is a vital part of your role. Your duties may include handling staff under your helm. You may train pharmacy technicians and interns.
8. Perform admin tasks
Part of your job as a pharmacist is to keep your patients' files up to date. This includes ensuring that you properly stock your products and file your reports on time.
Best Pharmacy Skills
Now that you know what to do as a pharmacist, you must check if you possess the right skills to excel in the job. More than your knowledge of how to give the prescribed drugs to patients, you must also have these pharmacist skills in your resume. Want to discover how to flaunt your skills? Check our pharmacist resume example above.
1. Management skills
A pharmacist must have an organized mind and must run the system of doling out medicines efficiently.
2. Finance skills
You must know how to manage your drug inventory and assess financial reports.
3. Mentoring skills
For you to motivate your staff to learn, you must have adept skills about the subject.
4. Multitasking and efficiency
It could be tricky, but you must learn how to juggle two or three tasks at a time without compromising the quality of work and achieving the deadline.
5. Communication skills
You won't just speak with patients for you will need to discuss with several healthcare professionals, too. Hence, you must polish your skills so you can hold yourself well in any conversation.
Pharmacist's Education, Licenses, and Credentials
A pharmacist must have the following credentials:
1. North American Pharmacist Licensure Exam (NAPLEX)
2. Multistate Pharmacy Jurisprudence Exam (MPJE)
3. Professional degree in Pharmacy accredited by the Accreditation Council for Pharmacy Education (ACPE)
The Top-Paying States for Pharmacist Jobs
The data below is as per the 2018 Bureau of Labor Statistics Report for Pharmacists.
| | | |
| --- | --- | --- |
| State | Hourly Wage | Annual Wage |
| Alaska | $67.25 | $139,880 |
| California | $67.16 | $139,690 |
| Vermont | $65.11 | $135,420 |
| Maine | $63.97 | $133,050 |
| Wisconsin | $63.66 | $132,400 |
ResuMeds' Resume Requirements:
Congrats! You've uncovered which info your resume must have to get your target job. Thanks to this pharmacist resume example, you are now a step closer to your dream! But let's not stop there. We want you to take note of these tips and encourage you to include them in your resume, as well.
1. Present yourself as the best candidate with your experiences.
What are your career feats? How did it help you become the healthcare professional you are now? Make your resume authentic, so you can put yourself in the best light. Let these questions be your guide in making a resume that will surely make you stand out. However, be careful not to include false claims for it will put your credibility at stake.
2. Give the 'right dose' of keywords.
What experiences do you think will give you an edge amongst the others? Most hiring managers now use an applicant tracking system (ATS) in screening applicants. Aside from hitting the right keywords to match the ATS, including unique qualities, gives you a better chance to shape your resume into what the hiring managers expect. Don't hesitate to tailor your resume so you can give them the right dose of your skills they need.
3. Specify the 'right drug' in your resume.
Just as patients need the right dose of drugs to get well, you must also specify the accurate details in your resume to get better hiring chances. Convince them that your skills are the best remedy for their company's needs.
Pharmacist Resume Example: A Specimen to Remember
We've just given you a primer on what a pharmacist resume must look like. Have you observed how you must write yours? Do you find resume writing challenging? Don't worry, if you think you need more help more than this pharmacist resume example can give; don't hesitate to seek our medical resume help! Our expert healthcare resume writers at ResuMeds would not only help diagnose your resume, we'll also help you administer the prescribed treatment to your job search document. At ResuMeds, we want you to succeed. Let's get started, stat!