The job outlook for veterinarians is currently on the rise. According to the US Bureau of Labor Statistics (BLS), the job opportunities for this profession is projected to grow 19% from 2021 to 2031, a rate that's much faster than the average for all jobs. In line with this, about 4,800 job posts are seen to open each year, on average. With these jaw-dropping statistics alone, one can argue how this career is considered as one of the fastest growing in the market.
You might be one of the many aspiring job seekers aiming to land a job as a veterinarian. You've come to the right place! In this guide, learn more about this career path as well as some tips and tricks on how to write a compelling veterinarian resume to help you land this job.
What Does a Veterinarian Do?
A veterinarian is a medical professional who specializes in the health and well-being of animals. They provide medical care, diagnosis, and treatment for a wide range of animal species, including pets, livestock, zoo animals, and wildlife. Often, they work in various settings such as private clinics, animal hospitals, research institutions, and government agencies.
Some of their key responsibilities and tasks in support of animals include the following:
Perform medical examinations
Diagnose illnesses and injuries
Provide treatment and medication
Administer preventive animal care
Conduct surgical procedures
Provide emergency care
Educate clients (e.g., pet owners and animal caretakers)
Engage in research and public health efforts
Collaborate with other medical professionals to provide extensive animal care
Overall, veterinarians combine their medical knowledge, diagnostic skills, and compassion for animals to provide a wide range of services aimed at keeping animals healthy as well as at treating any illnesses or injuries they may experience.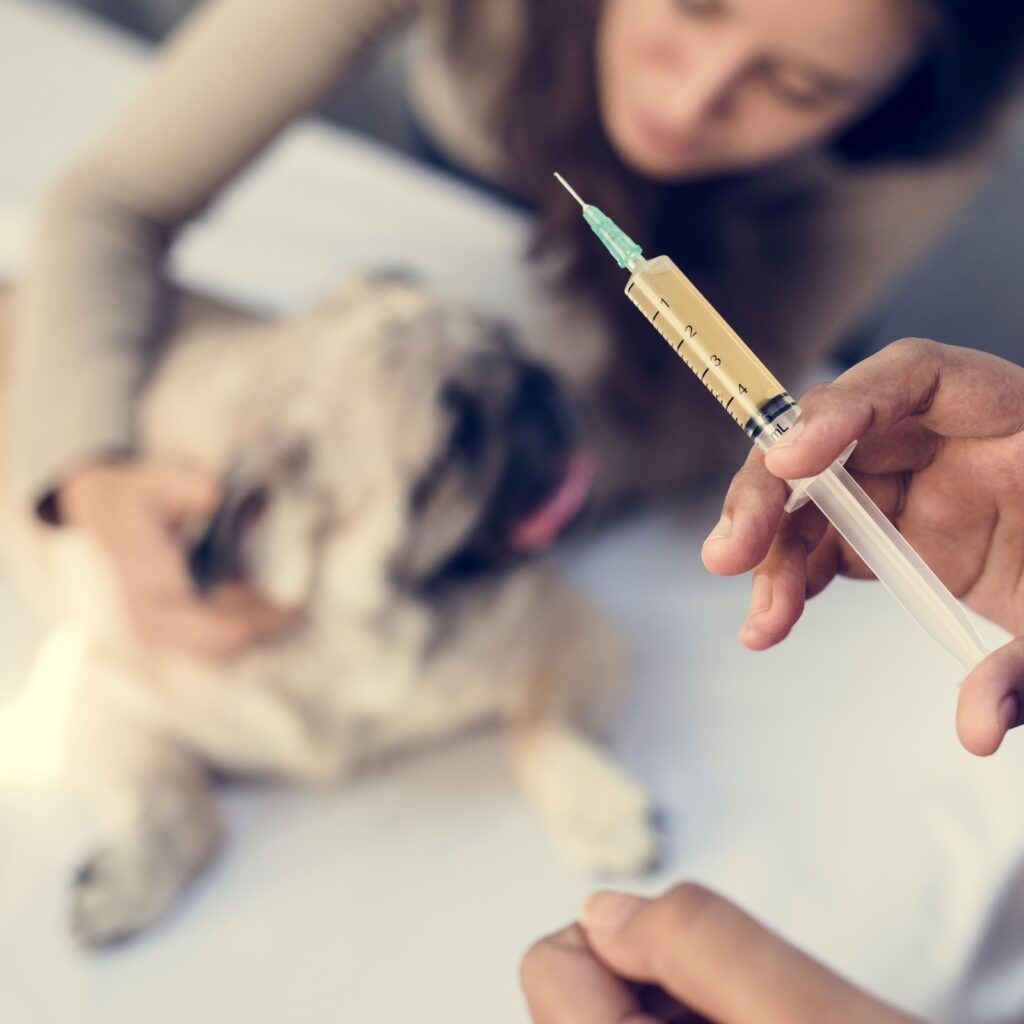 What is a Veterinarian Resume?
A veterinarian resume is a document that highlights a veterinarian's education, skills, work experience, and professional achievements, among others. It mainly serves as a tool to showcase the veterinarian's qualifications and abilities to potential employers and hiring managers in the field of veterinary medicine. A well-crafted veterinarian resume is essential for securing job opportunities, especially if you aim to work in a veterinary clinic, animal hospital, research institution, or other related settings.
How to Write a Veterinarian Resume
Before writing your resume, you may be wondering: How long should a resume be? The quick answer is that it depends on your job level, experiences, and the requirements of the job you're applying for. However, the rule of thumb is to keep it at one to two pages to make it concise, straightforward, and tailored to the job post. In some cases, though, three or more pages can also work.
Another general tip you can also follow is to create a resume outline to help you list the details and sections you want to include in your veterinarian resume. This way, you have a handy guide to refer to once you start writing.
Without further ado, here's a step-by-step guide you can follow:
1. Understand the job requirements.
Read the job descriptions of your target positions thoroughly to understand the specific skills, experience, and qualifications that the employer is seeking. This will help you tailor your resume to match the employer's needs.
2. Mind the format and structure of your resume.
Begin with a header containing your name and contact information including your email address and phone number. Consider using clear section headings and bullet points to make your resume easy to read and navigate. Also, there are common resume fonts you can consider using to help keep your job search tool neat, professional-looking, and well-formatted.
3. Write a compelling intro.
Start your resume with a concise and professional resume summary or objective statement. This should provide a brief overview of your skills, experience, and goals as a veterinarian. Tailor this section to match the specific job you are applying for.
4. Highlight your education.
List your educational background, starting with your most recent degree. Include the name of the institution, degree earned (e.g., Doctor of Veterinary Medicine), graduation date, and any relevant academic achievements or honors.
5. Showcase your work experience.
Detail your professional experience in reverse-chronological order, focusing on relevant roles and responsibilities. Provide a brief description of each position, emphasizing accomplishments, skills gained, and notable contributions. Also, include information on the types of animals you have worked with, any specialized procedures you have performed, and your ability to work as part of a team.
6. Emphasize key skills.
Create a dedicated skills section where you highlight the specific technical and soft skills that make you a strong candidate. Include skills and incorporate keywords from the job description to ensure alignment with the employer's requirements.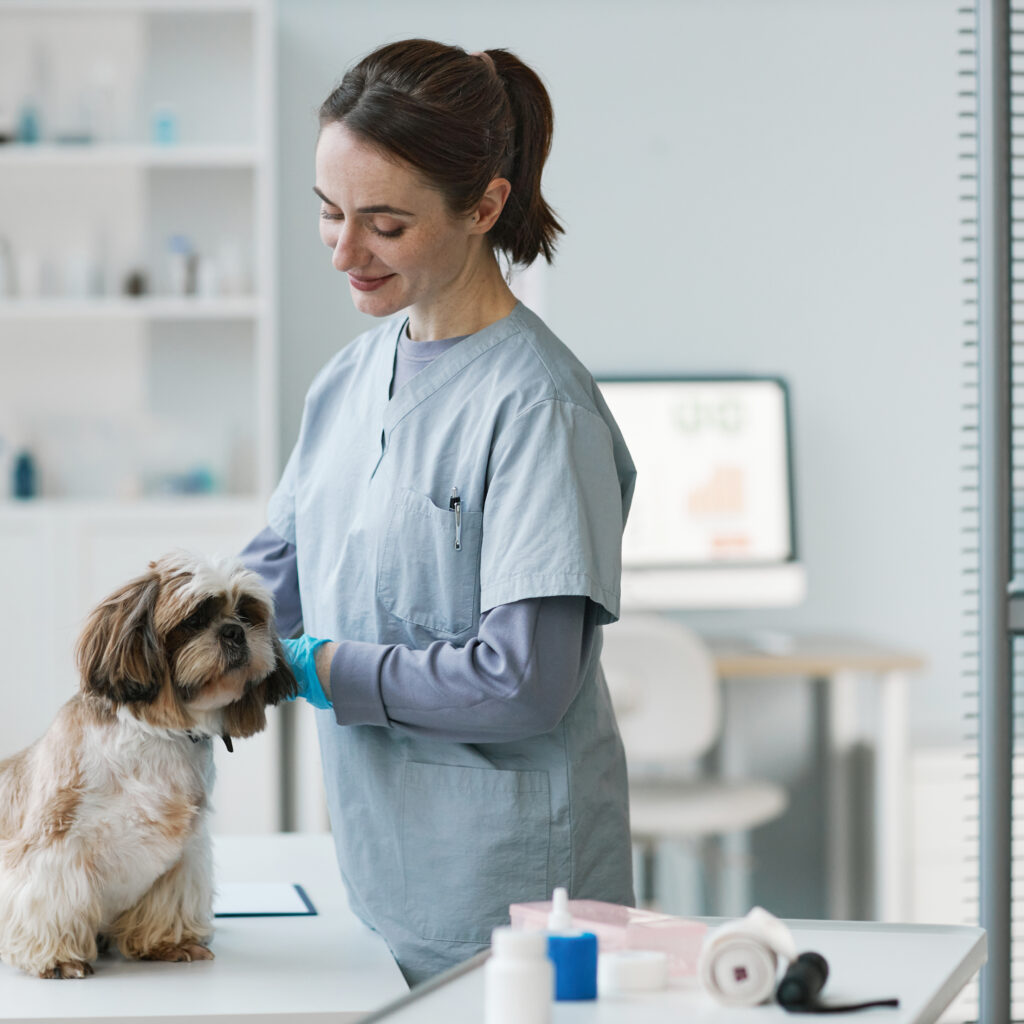 7. Include continuing education and certifications.
Mention any continuing education courses, workshops, or certifications you have obtained to showcase your commitment to professional development. This can include specialized training in areas such as dentistry, orthopedics, or exotic animal medicine, to name a few.
8. Showcase research and publications.
If you have participated in research projects, published articles, or presented at conferences, highlight these achievements in a separate section. This can help demonstrate your dedication to stay abreast with the latest advancements in your chosen field.
9. Indicate your professional affiliations.
Include any memberships or affiliations you may have with professional organizations, such as the American Veterinary Medical Association (AVMA) or specialty associations. This shows your commitment to the field and involvement in professional networks.
10. Write complementary job search tools to support your application.
Consider including supporting job search tools such as cover letters to further explain your qualifications, express your enthusiasm for the position, and highlight specific aspects of your experience that make you a strong candidate.
Veterinarian Special Skills to Put on Resume
To be competitive enough as a job seeker in today's job market, you have to make sure you have the necessary skills for veterinarians to qualify for the job. Furthermore, it's important to highlight your special skills that are relevant to the field of veterinary medicine. These skills demonstrate your expertise, capabilities, and ability to provide quality care to animals.
Now, what skills do you need to be a veterinarian? Here are some special skills to consider including on your veterinarian resume:
Animal Handling
Surgical Proficiency
Diagnostic Skills
Anesthesia Administration
Dentistry
Emergency Care
Laboratory Techniques
Recordkeeping and Documentation
Teamwork and Collaboration
Problem-Solving and Decision-Making
Compassion and Empathy
Remember to provide specific examples or achievements that demonstrate these skills. By highlighting your special skills, you can showcase your expertise and stand out as a qualified and competent veterinarian.
Veterinarian Resume Tips
To guide you in ensuring a well-written and effective veterinarian resume, here are other tips and best practices you can consider doing:
Tailor your resume for each job application to highlight your most relevant skills and experiences.
Showcase your skills that are valuable in veterinary medicine.
Quantify your achievements using numbers or percentages.
Convey your passion for animals and your commitment to their well-being through your resume, by mentioning your volunteer work, community involvement, or any special initiatives you have undertaken to support animal health.
Thoroughly proofread your resume for any spelling or grammatical errors or even minor mistakes that can create a negative impression.
Veterinarian Resume Example
Now that you're armed with the best tips in writing your resume, it's time for you to see what it should look like. Check out this veterinarian resume sample that you can use as a guide as you write your own!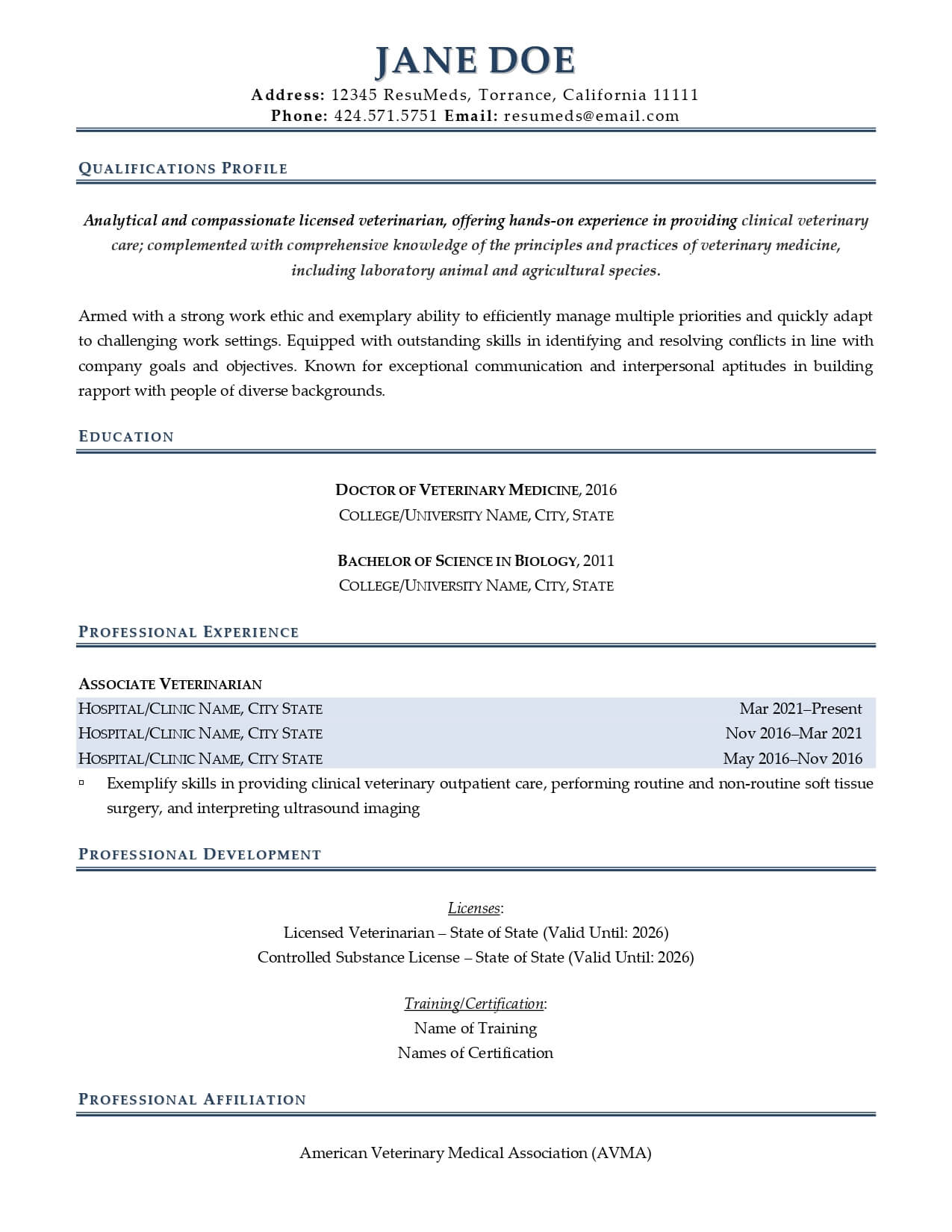 Let Our Experts Write Your Veterinarian Resume!
Apart from checking out veterinarian resume examples and top resume writing tips, considering working with an expert can also help you ace your job search by being armed with a well-written job search tool! Browse through our medical resume services and work with our expert writers now.