As per Statista, an estimate of 4.38 billion retail prescriptions will be filled in the US in 2019. With this, the demand for pharmacy experts is clearly on the rise, as the projected number of retail prescriptions to be filled until 2025 is expected to increase as well.
Despite this, you must prepare yourself well if you're aiming to land in this field. To help you get hired in no time, ensure a striking pharmacy technician resume. Ready to start your journey? Make sure to check out this guide for all the best resume writing tips you need!
Tips in Writing Pharmacy Technician Resume
Before writing your pharmacy technician resume, it's best to set your role expectations first. In this job, you're expected to perform duties which include:
Preparing prescription labels;
Screening prescription orders;
Interacting with customers and address their queries in-person or through phone calls;
Assisting pharmacists; and
Using tech and other equipment to keep patient records, prepare and package medications, and place orders
With these, we know that this role entails huge responsibilities to serve more customers properly. As this line of work involves others' health, you must be adept at performing such duties.
Likewise, your competencies must be obvious in your resume. As you build your dream career, make sure you're equipped with strong job search tools that'll help you along the way—starting with your pharmacy technician resume. Thinking where you should start? Heed these resume writing tips we listed for you!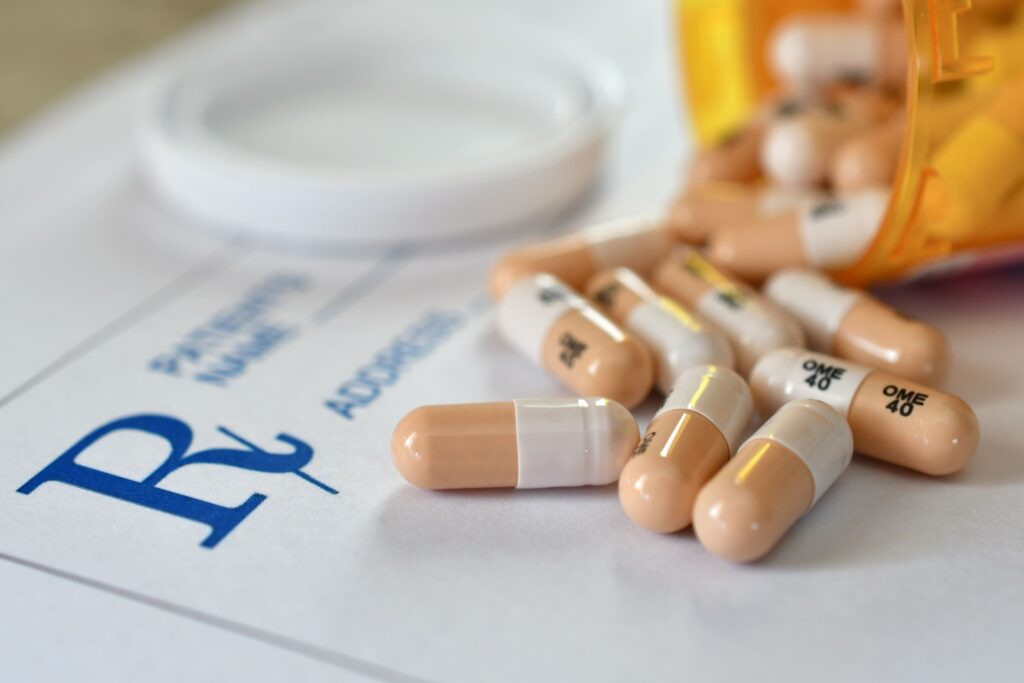 1. Pick the most apt resume format you should use.
Before starting, choose the best format to use from the get-go. This will help you write your pharmacy technician resume better.
What you can do is to gauge your current job level and career goals. Based on these, you can then pick from these formats:
Reverse-chronological: This mainly focuses on listing your work history starting from your current or most recent job, working your way backwards.
Functional: Also known as skills-based format, a functional resume highlights your top skills and strengths that are keys to the role and company you're applying for.
Hybrid: From the name itself, a hybrid resume combines the features of the first two formats.
Targeted: This format details only the relevant job roles you've had in the past, and simply lists the job titles and company names of your past unrelated jobs.
Choosing the right format also lets you know how long your resume should be. As much as possible, it's best to keep it to 2 pages at most.
2. Craft a striking resume intro.
Since most hiring managers and recruiters need to screen hundreds of job applications every day, it's best to assume that your task as a job seeker is to stand out and catch their attention. This is just the first step of making them know how you're the best fit for the role you're vying for. Besides, you'd want to make sure your readers would keep scanning through your resume to be learn your background.
To ensure you'll be writing the perfect, striking piece, gauge your job level to know what kind of resume intro you need to craft. These are the ones you can choose from:
Pharmacy technician resume summary: If you have more than 3 to 5 years of work history, you may opt to use this to list your feats and prove your competence in your field. Describe your key experiences and feats using this intro.
Pharmacy technician resume objective: If you're a fresh graduate, career shifter, or have no experience to show, use this option instead. State a gist of why you're the best fit for the role through your key experiences, skills, and achievements.
3. Discuss your relevant work history.
This part must state your past and current roles, employers, and years of experience. Further, it's a good move to check the job description of the role you're applying for. This is so you can take note of key resume keywords mentioned in the job posting and put them on your pharmacy technician resume as you deem fit.
Expert tip: To put emphasis, use an action verb to detail each work experience. This practice lets you highlight your competence as a pharmacy technician and therefore bring a more confident tone to your resume.
4. Mention your notable achievements and certifications.
Serving as a solid support to your work history, listing your career highlights and professional development achievements is a must.
Further, being a certified pharmacy technician is also a great way for you to get noticed by hiring managers. Make sure to put your Pharmacy Technician Certification (PTC) on your resume to help boost your chances of landing a job.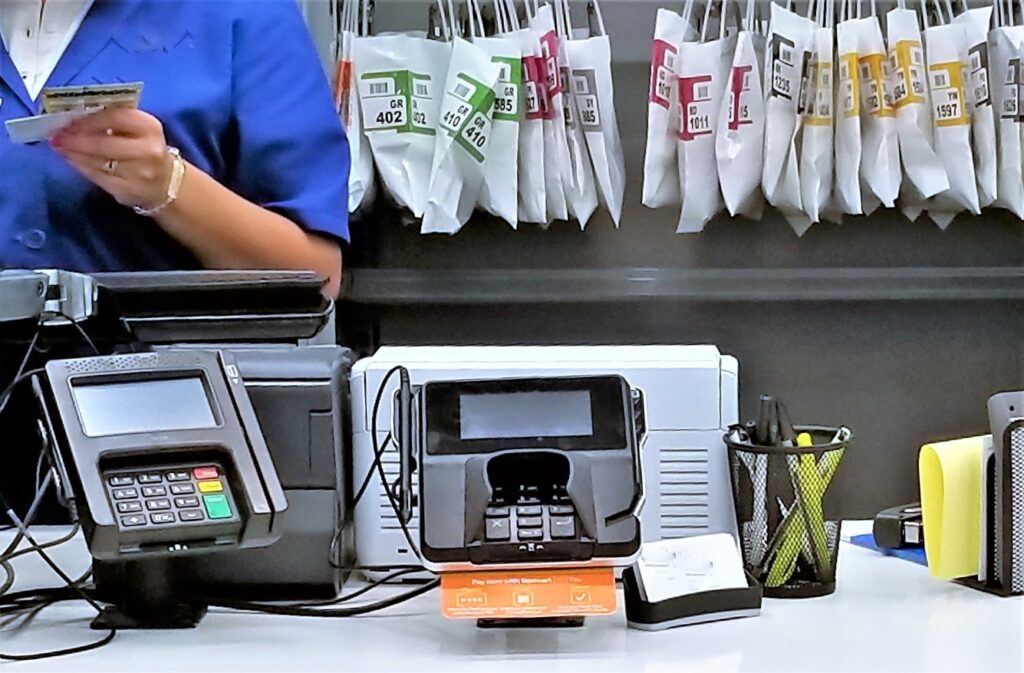 5. Emphasize your pharmacy technician resume skills.
As much as you can, list those that are most suited to the role you're aiming to land. After all, hiring managers will refer to your skill set along with your work history and feats to see if you're fit for the job post.
Upon assessing yourself as a professional, you may consider adding these soft and hard skills to your pharmacy technician resume:
Maintaining records
Resolving billing concerns
Maintaining pharmacy equipment
Working with TCG Packaging Machine
People skills
Active listening
Teamwork
6. Review your resume formatting and layout.
Keep your font size to 10 to 12 points for normal texts. To ensure your section titles are optimized, use 14 to 16 points to make them more distinct.
Also, use classic font styles like Didot, Georgia, and Lato. Lastly, send your pharmacy technician resume as a PDF file (unless stated otherwise) to keep the formatting intact.
7. Take time to proofread and edit your resume!
Since some of the key skills you need are being organized and having great attention to detail, your resume must also reflect your qualities. Double-check your job search tool to spot spelling, grammar, and format errors you might have missed.
Pharmacy Technician Resume Sample
Now that you're aware of the parts and details you need to put, you might still be curious on how your resume should look like. For a quick guide, check out this pharmacy technician resume sample!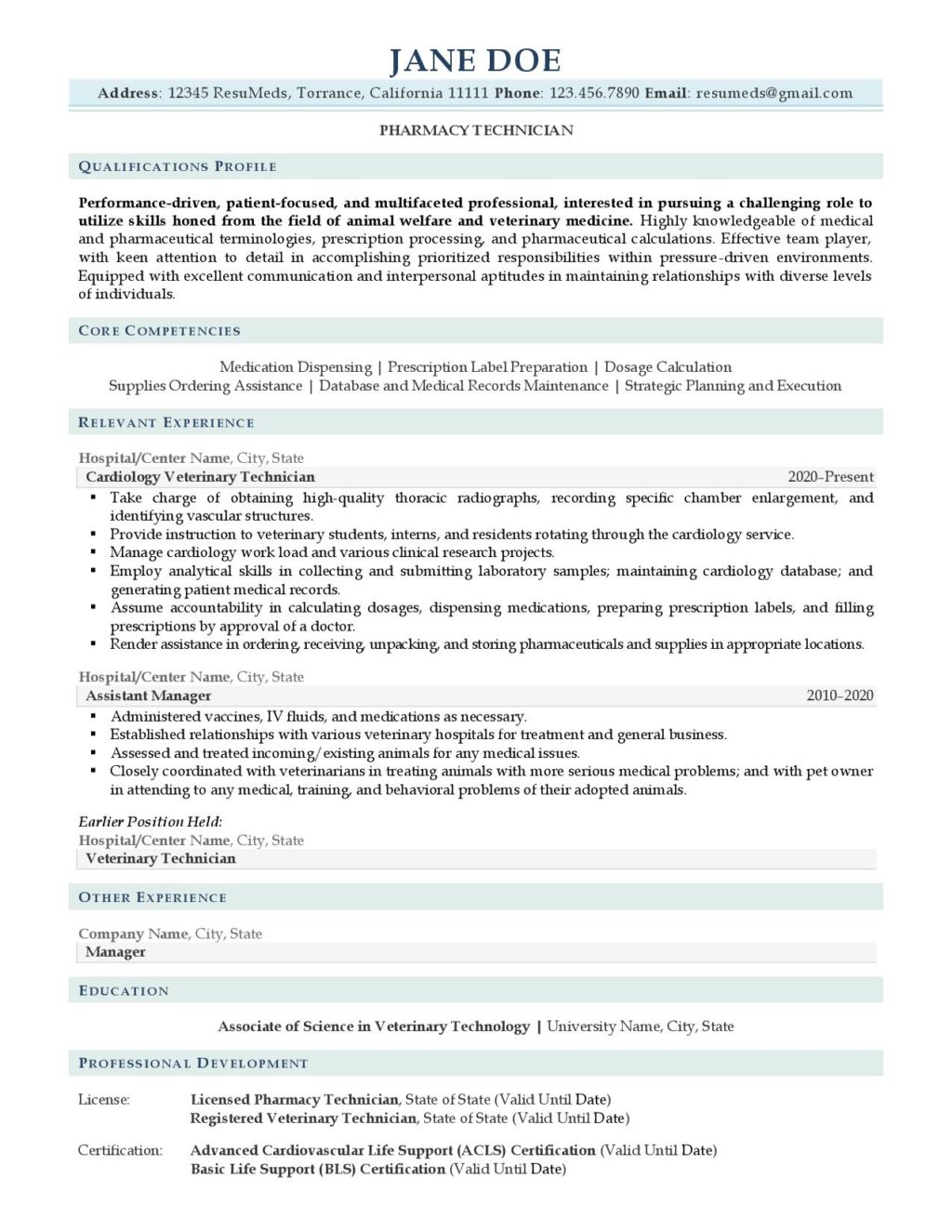 Job Outlook of Pharmacy Technicians in the US
As the world continues to adapt to the new normal brought about by the COVID-19 pandemic, drastic changes are also being experienced in the workforce. Many job seekers struggle to land new jobs that are pandemic-proof, while others face pay cuts and skill gaps to name a few.
On the bright side, healthcare careers continue to be in-demand as experts in this field are crucial during this time. Further, this is good news for those like you who are considering this career path.
The pharmacy technician job outlook sees a growth of 4% from 2020 to 2030, as per the US Bureau of Labor Statistics (BLS). Despite having a slower growth than the average for all jobs, about 31,700 job openings are projected each year over the decade. Further, most of those are expected to result from the need to replace staff who shift to other jobs or quit the labor force, such as to retire.
Let ResuMeds' Experts Write Your Resume!
Don't let your resume writing woes stop you from landing your dream job! Instead, leave it to the experts while you focus on your other job search efforts such as your job interview.
Let us help you be armed with a well-written job search tool! Browse through our medical resume services and work with our expert writers now.