It takes a lot of hard work to become a physician. You'll only get a few hours of sleep every night, have erratic job schedules, and little free time. Although you'll spend the majority of your early adult life learning how to save lives, the joys and rewards of this work surpass the challenges once you watch your patients thrive. You can expect a 15% growth in medical work opportunities in the following years, ensuring a solid future. But how can you achieve greater heights with all of your medical accomplishments? With our medical CV sample, you may resurrect and renew your career!
Despite the fact that curriculum vitae typically contains more information than a resume, the keys to a great physician CV still come down to simplicity coupled by an outstanding list of achievements. It is the detailed summary of your life's experiences, most of which are professional or academic in nature. When applying for a position in academia, research, or in this case, the medical field, a good physician CV is essential.
How to Write Your Physician CV (and Other Things to Take Note)
For a physician CV, it is advisable to use the reverse-chronological format. This format lists your medical and professional work experiences from the recent jobs backwards. It's the most standard format that highlights your career progression over the years, and is ATS- friendly.
The length of CV for someone who is just beginning out in their career or a fresh graduate from medical school can be one page long. An experienced physician's CV, on the other hand, may run to two pages or more.
Below we listed the following details a physician's CV should include for you to note:
1. Header with your Basic Profile Info
Type your full name, address, email address, and phone number on your header. It's important to keep in mind that these details are necessary if you expect to receive callbacks from hiring managers. On each page of your physician CV, always provide your header with your contact information.
2. Qualifications profile
Since the days of including an objective section in your CV are long gone, job seekers have begun to include a brief summary of their talents and achievements at the beginning of their CV. It is a useful technique to make your physician CV stand out from the crowd and allow hiring managers to see your qualifications right away. To persuade potential employers that you are the best candidate for the position, highlight your strengths.
3. Education
Including the education section in your CV is important because it shows which institution helped refine your patient care skills. Include your MCAT (Medical College Admission Test) and Board scores in this section. Don't forget to list the schools you've attended and the credits you've earned.
4. Experience
According to the American College of Physicians, it's ideal to separate your full-time and part-time work experiences. Similarly, you must record your medical experiences first, followed by your related experiences in a separate area. Your hiring supervisors will be able to verify easily the abilities you've listed in your qualifications profile this way.
You can include teaching and other professional experiences if you have any on your related experience section.
5. Licenses, Affiliations, and Publications
Want to boost your credentials as a physician? Display your achievements, networks, and awards! You can add your board certifications and presentations at national or international meetings. You may not include physician CV references, but this section can verify your network and skills.
If you're a foreign medical graduate, include your citizenship and visa status. Being open and honest with a physician recruiter shows you are trustworthy and willing to make the application process as simple as possible for them.
Key Physician Skills
Did you miss any crucial section in your resume? Good thing you've reviewed our records of a healthy physician CV example. But it doesn't end there yet. As you know with sick patients, some symptoms are just byproducts of a deeper cause.
With your medical CV, you may have included all key sections, but this does not ensure you'll snag the job you're aspiring. Hence, let's dig deeper and observe which noteworthy skills you must possess. Plus, our CV writers have matched the skills with the common physician job description you might encounter.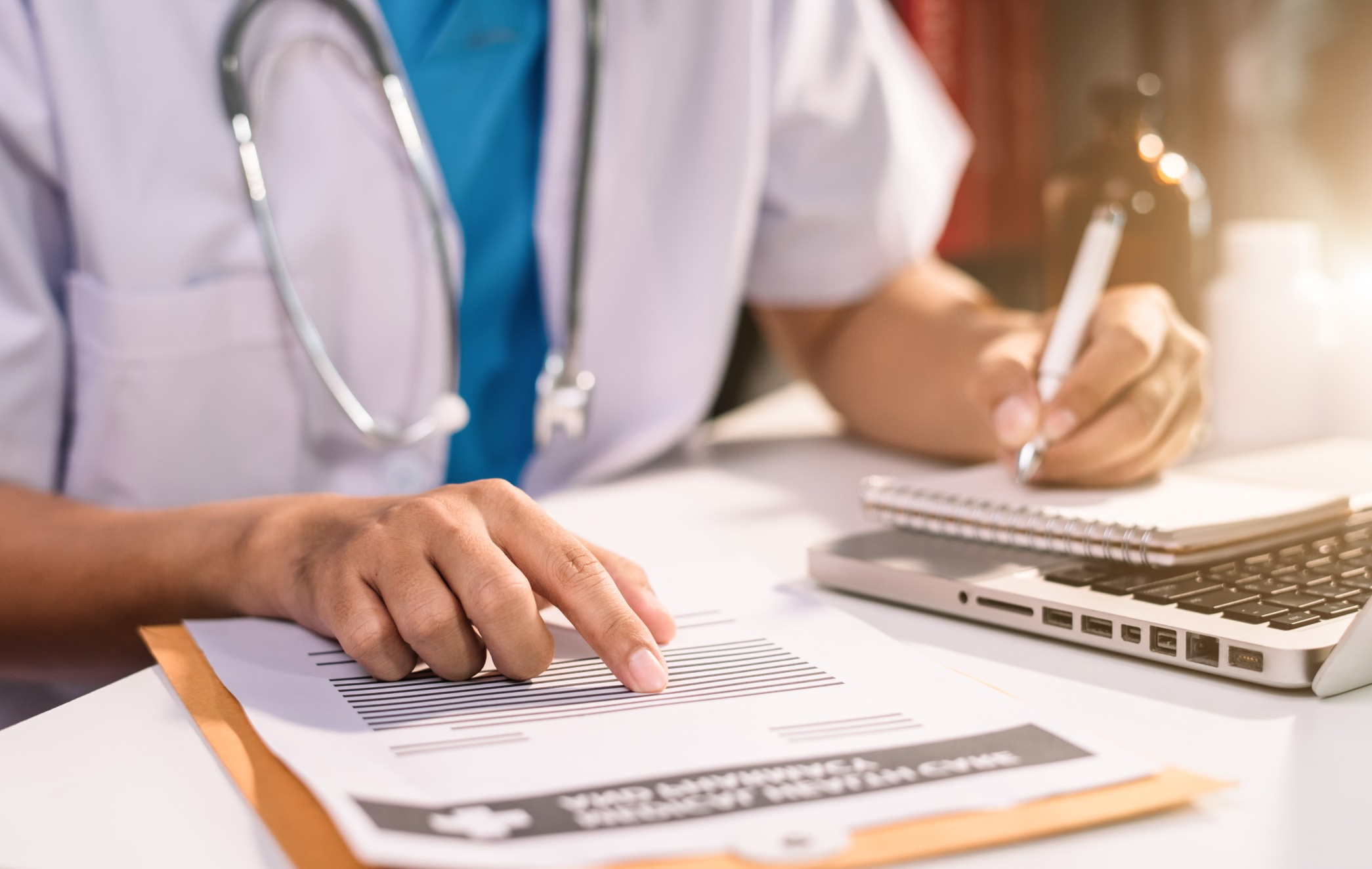 1. Decision-Making Skills
Your decision-making skills can be a do-or-die moment for a patient. Hence, this is a crucial skill every physician must have. You must be able to think on your feet and take the effect of each decision you'll make responsibly.
Skills match for: aiding patient consultation and physical exams, performing surgical procedures, monitoring patients, and administering treatment, organizing workloads, managing a department, and providing general pre- and post-operative care
2. Leadership and Management Skills
Doctors may be vital in a hospital, yet it takes a team of healthcare professionals to give the best care. Hence, as a leader, you ensure that each personnel moves accordingly so that every patient receives the best medical care. Your time management skills can also be included here.
Skills match for: organizing workloads, managing a department, and facilitating general pre- and post-operative care
3. Analytical Ability
As physicians, you must approach every case with caution and a keen eye for details. To supply proper care to clients, you must observe them closely. Hence, this ability may come in handy.
Skills match for: aiding patient consultation and physical exam, performing surgical procedures, providing pre- and post-operative care, monitoring patients and administering treatment, assessing and planning treatment care plans
4. Communication Skills
The hospital is a busy hive for many medical experts and patients. Thus, it's important to maintain a clear and open flow of info to prevent any type of mishap. If you're a physician, you ensure that your talking and listening skills are concise. Not only will your message be a critical part of the decision-making; the info you give will also help prevent the spread of diseases and loss of lives.
Skills match for: Liaising daily with the staff, writing reports and maintaining records, leading a medical team, keeping the team informed about the care of their patients, aiding patient consultation and physical exam, organizing workloads, and monitoring patients and administering treatment
5. Compassion and Drive to Continue Learning
Compassion for patients and the thirst for learning are skills you must have to become an exceptional doctor. They help you become determined in giving patients the best treatment, as well as having the interest to teach interns and other staff of the team.
Skills match for: Teaching and supervising trainee doctors, promoting medical and healthcare education, and leading a medical team
Physician CV Example
Here's a physician CV example you can refer to if you ever need to make your own: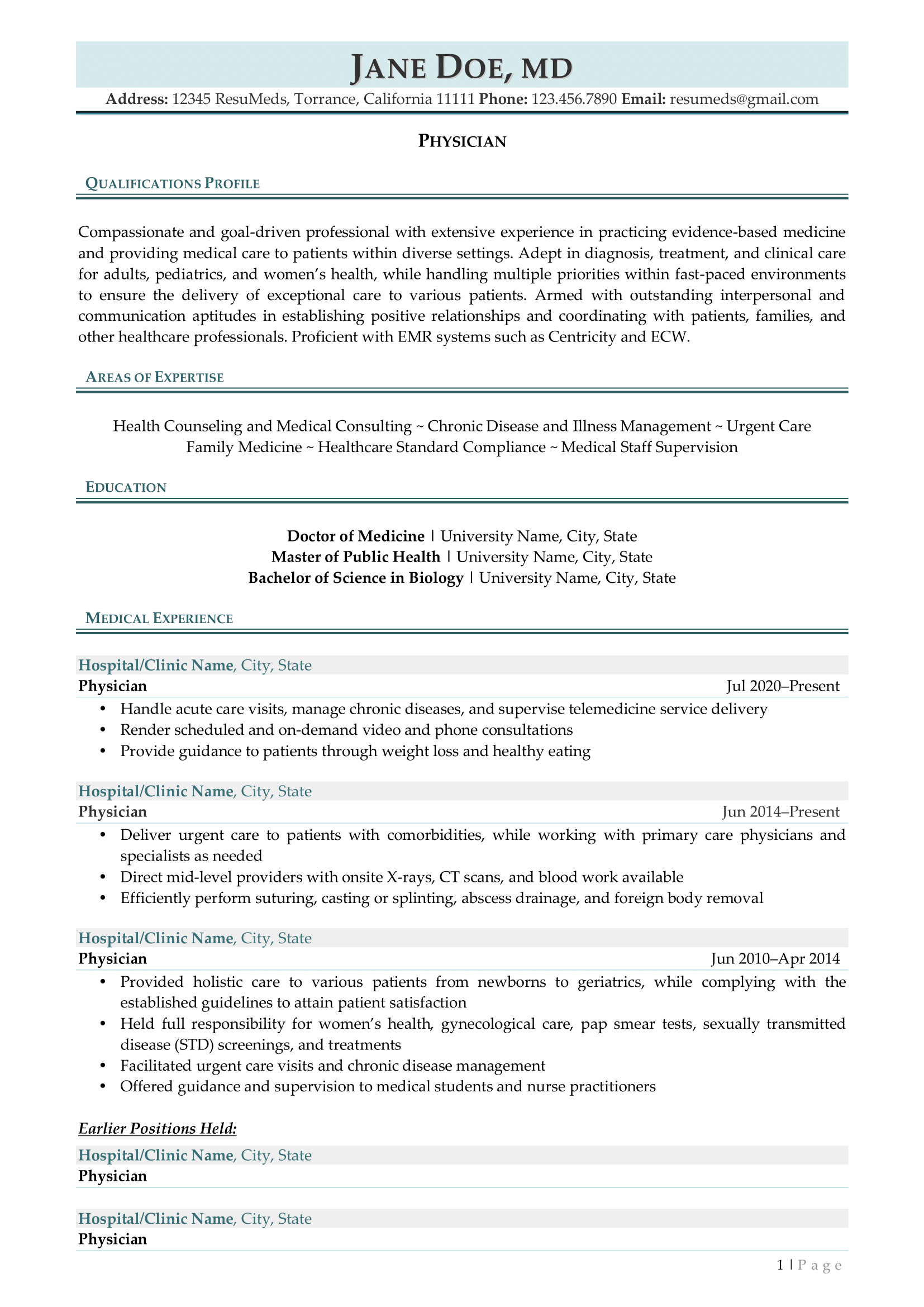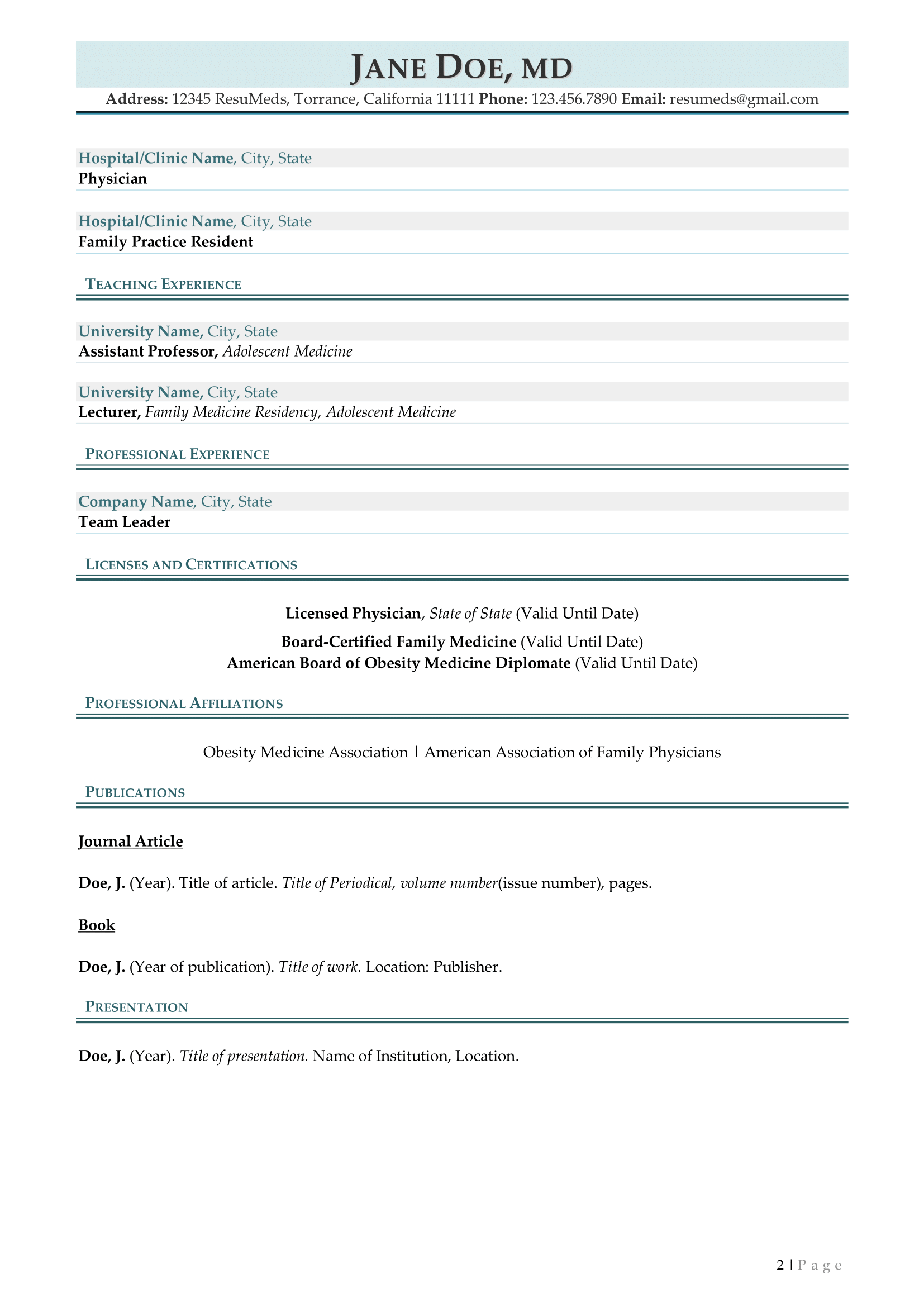 Physicians in the US: An Overview Update
The Coronavirus pandemic is putting more pressure on primary care physicians, who are on the frontlines of health care. Even before the outbreak, it's widely thought that there would be a shortage of primary care physicians. However, math suggests that the US should have more than enough primary care doctors.
The need for physician services is projected to increase as the population grows and ages. Consumers will demand high-quality treatment that includes the latest technology, diagnostic tests, and therapies as the population ages and the presence of chronic illnesses rises.
If you're just about to start your healthcare career path, the prospect right now is that the rate of physicians and surgeons is projected to grow 4 percent from 2019 to 2029, about as fast as the average for all occupations. That is not bad for people who want to start out their medical career now.
ResuMeds' Resume Requirements
As a physician CV writing service provider, we know how crucial details are to every case assigned to you. The same way goes with your physician CV! That's why we're giving you some more tips on how to improve yours. Check out below.
1. Use the Challenge-Accomplishment-Result Technique
When you write your physician CV, don't just mention your physician job description. Instead, prove to the hiring managers that you fit the bill when you detail your successes using this method. Relate a problem you encountered, then tell them how you solved it using your skills. Answer this question: How did your actions affect the employer?
2. Find the balance in a simple format, brevity, and absolute accuracy
While your physician CV can be more than two pages long, that doesn't excuse you from using short, concise, and accurate words. Just as you need to administer the exact drug dose, your CV must also contain the right keywords to appeal to hiring managers.
Navigating a Physician CV Example
You're now ready to give your CV a much-needed update after reading these useful tips. If you're short on time or your CV requires more work than this medical CV sample, don't hesitate to hire a professional physician CV writer! Our ResuMeds medical CV writers will not only review your CV, but will also conduct processes to ensure it reflects the best of your career. At ResuMeds, we want you to succeed. Let's get started, stat!