As the need for comprehensive eye care and personalized treatment plans continues to grow, the demand for optometrist positions also witnesses a significant rise in recent years. That being said, it is imperative for aspiring optometrists to be well-prepared before entering this expanding field.
How do you start your preparation? Begin by making sure your optometrist resume is visually appealing and strong enough to captivate the hiring's manager's attention. How should this be done? Check out this guide for all the best resume writing tips you need!
Job Outlook of Optometrists in the US
Recent projections from the Bureau of Labor and Statistics indicate a remarkable growth rate of 10% in the employment of licensed optometrists between 2021 and 2031. This surge in demand for optometrists presents an exceptional and thrilling opportunity for individuals aspiring to pursue a career in healthcare field.
However, while the prospects for becoming an optometrist are promising, it is important to acknowledge the challenges associated with securing a position in this competitive field. Nonetheless, the future for optometrists appears exceedingly bright, driven by factors such as population growth, an aging society, increased awareness of eye health, and the integration of technological advancements.
How to Write an Optometrist Resume
Having a great resume is essential for professionals in any area, and optometry is no exception. Whether you are a recent graduate starting your optometry career or a seasoned professional looking to expand your options, polishing and enhancing your resume is crucial. And in order to accomplish that, you must understand the basic components that make a good and impactful optometric resume.
Below are some of the fundamental components your resume must have:
Contact information
This portion of your optometrist resume is essential since it enables direct communication with possible employers. Include proper contact information, such as your complete name, email address, and phone number, to guarantee that you don't miss out on any possibilities.
Eye-catching qualifications profile
If you're actually interested in getting the work as an optometrist, you must create an attention-grabbing qualifications profile. This part is important for making a good initial impression and holding the hiring manager's attention. Use this chance to write a captivating summary statement that successfully communicates your worth as a candidate.
Well-crafted skills section
It is critical to present your skills in your optometrist resume if you want to raise your chances of being considered for an optometrist position. To do this, create a section in your resume that highlights your pertinent capabilities, including both technical and people skills. To demonstrate your skill set succinctly and effectively, use bullet points.
A detailed work experience section
One aspect that the recruiter truly cares about and pays attention to is your work experience. Why? Because it's designed to make you a good prospect. Thus, be sure to highlight in this part any experience and accomplishments that are pertinent to the optometrist position you are looking for.
Properly laid-out education section
On your optometrist resume, make sure to emphasize your education, especially if you are a recent graduate. Put your degree after your optometrist experience if you've been working for a while and can demonstrate a few solid positions.
Optometrist Specialized Skills to Put on Resume
Optometrist specialized skills are important on a resume because they show employers you are well qualified for the role. These qualities also set you apart from the competition, who only have general skills listed on their optometrist resumes, and demonstrate to the company that you have unique skills that will benefit them.
To assist you in getting your resume into the hands of a hiring manager, we've put together a list of specialized skills that you can emphasize on your optometrist resume:
Clinical Skills
Comprehensive Eye Examinations: Show off your skills in doing in-depth eye examinations, which include determining visual acuity, analyzing ocular health, and identifying eye problems.
Ocular Disease Diagnosis: Describe your expertise in recognizing and treating common ocular illnesses and diseases, such as dry eye syndrome, glaucoma, cataracts, diabetic retinopathy, and macular degeneration.
Patient Education or Counseling: Emphasize your capacity to advise patients on the proper handling and maintenance of eyeglasses, contact lenses, and other visual aids.
Refractive Surgeries and Services: Demonstrate your knowledge of pre- and post-operative care, along with procedures like LASIK and lens implants.
Patient Communication: Prove your ability to communicate with patients of all ages, to clearly and compassionately explain diagnoses and treatment plans, and to respond to queries.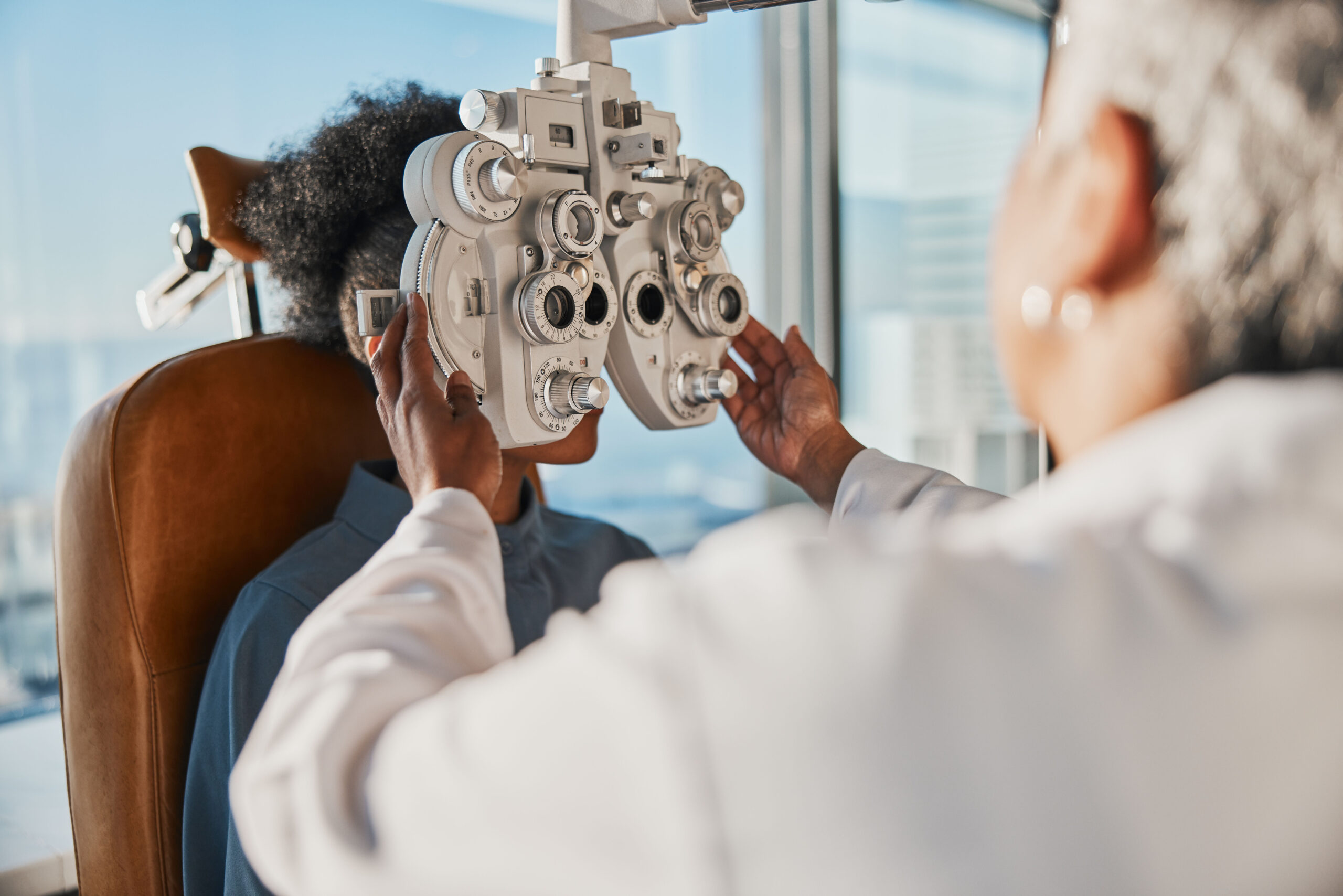 Technical Skills
Optical Coherence Tomography (OCT): Present your competence in using OCT systems and several OCT modalities, including time-domain OCT (TD-OCT) and spectral-domain OCT (SD-OCT), which involved instrument setup, calibration, and parameter modifications.
Keratometry: Display your proficiency with this diagnostic tool for determining the cornea's curvature, which is frequently carried out using a handheld device called a keratometer or an automated device called an autokeratometer.
Corneal Topography: Shows how well you are able to map the cornea's form and examine its surface with this diagnostic tool.
Common Action Verbs for Optometrist Resumes
Some of the most crucial things you need to emphasize in your optometrist resume are your knowledge of all optometry services and your capacity for excellent patient communication regarding their eye health. And the greatest way to demonstrate that you have these qualities and skills is through the verbs you use.
So, when writing your optometrist resume, stay away from business jargon and watch out for tired words and phrases. Instead, make a point of using powerful action verbs that are medically aligned to make you more appealing including the following:
Diagnose
Recommend
Test
Prescribe
Evaluate
Interpret
Treat
Educate
Document
Perform
Communicate
Refer
Conduct
Discuss
Improve
Administer
Explain
Follow up
Monitor
Advise
Assess
Provide
Adjust
Examine
Tips for Writing a Better Optometrist Resume
Now that you are aware of the essential components of the ideal optometrist resume, you are prepared to create a strong application tool that will significantly improve your chances of getting hired. Consider the following extra advice to strengthen your resume and successfully negotiate the challenging optometry job market:
1. Exhibit your expertise in optometry and other clinical operations
In your optometrist resume, demonstrate your in-depth familiarity with optometry and clinical workflows by emphasizing particular techniques, steps, and vocabulary that suit the requirements of the company. By doing this, you can convince the hiring manager that you are the ideal candidate for the position.
2. Add keywords to your CV to make it more specific.
Include keywords and phrases that are frequently used in the optometry industry in your resume to make it more suited for optometrist jobs. This may aid in getting your resume past the applicant tracking systems (ATS).
3. Quantify your achievements
When possible, quantify your achievements with numbers and figures. Mention things like the number of patients you see every day or every week, the effectiveness of your treatment programs, and any honors or recognition you've garnered. Doing so will help you present yourself as an achiever to recruiters.
4. Demonstrate your commitment to professional development
Since the profession of optometry is continually changing, it's critical to demonstrate that you keep up with new developments. Include any seminars, conferences, or continuing education courses you have taken. Mention any ties or memberships in professional organizations.
5. Highlight your patient-centered skills
Emphasize your ability to deliver outstanding patient care and happiness because optometry is a career that values patient pleasure. Give examples of how you've engaged patients, addressed their concern, and made sure they were comfortable throughout examinations and procedures.
Optometrist Resume Example
What to see a clear picture of what an impressive optometrist resume should look like? Check this resume sample and see how to write an optometrist resume that will increase your chances of getting invitations to job interviews.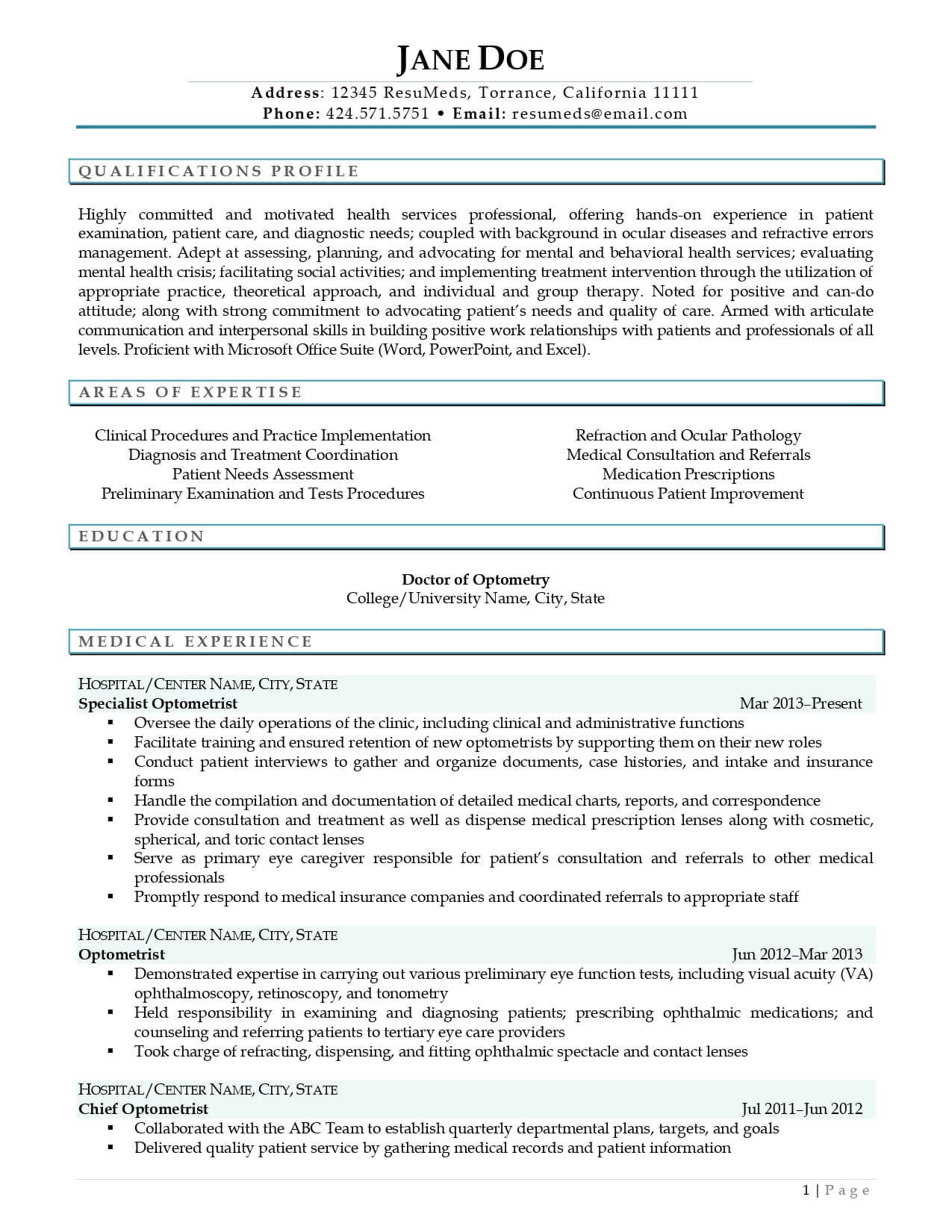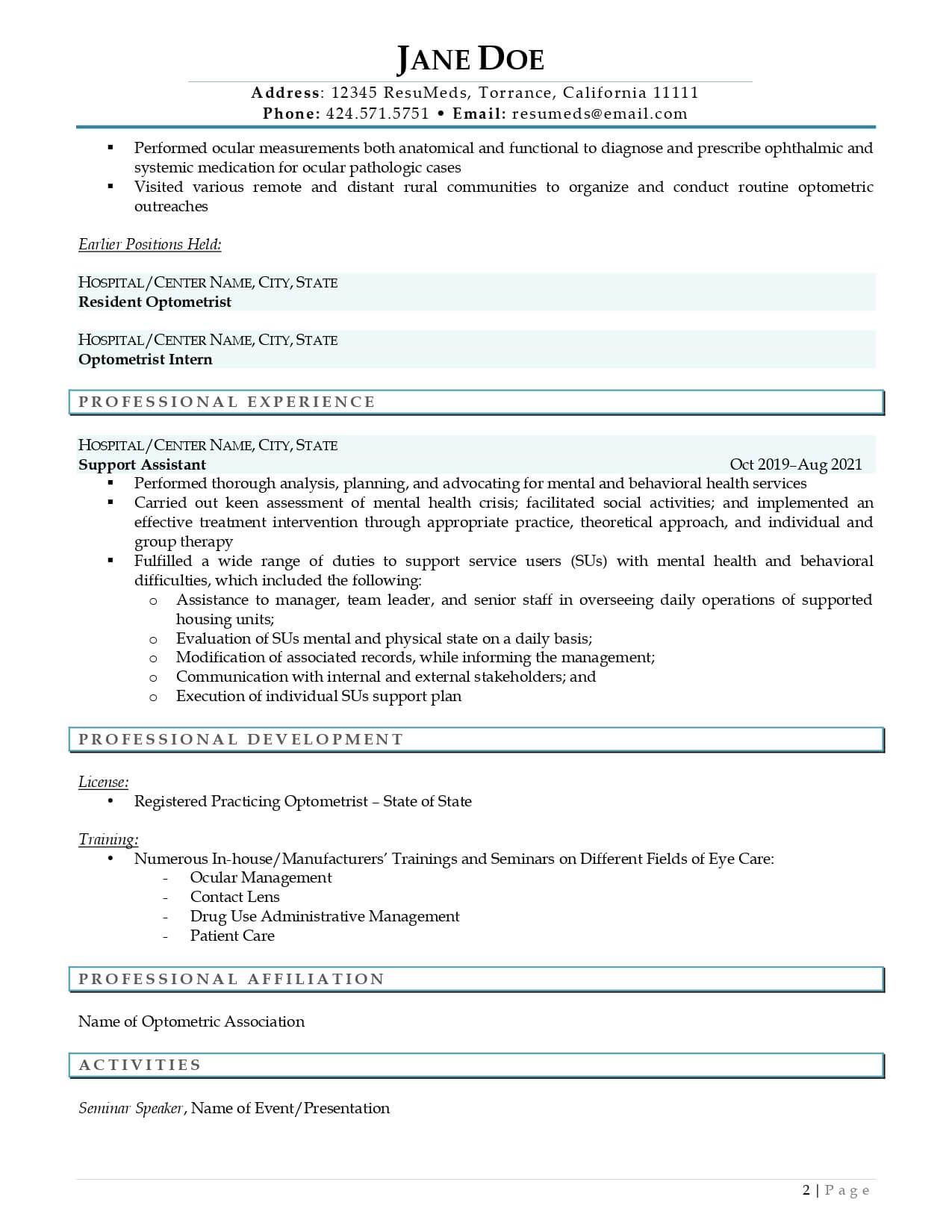 Unveil the Vision of Your Optometry Career by Crafting an Awesome Optometrist Resume
Crafting an awesome optometrist resume is essential in paving the way for a successful optometry career. By carefully curating and highlighting your skills, experiences, and achievements, you can make a lasting impression on potential employers and stand out in this competitive field.
Need help creating your resume to land that dream job? Check out our medical resume writing services now and get started on crafting your great optometrist resume today!