You're in the field of patient care. You know how it's like to help people meet their health needs and your role as an occupational therapist is crucial in their progress so that they can improve, regain, and build the needed skills for their day-to-day life and work. It is a worthwhile career indeed–and a noble one.
In this line of work, utmost patience, grit, and effort are keys to your success. Likewise, you must know that you have to put in ample time and work into preparing for your job search. That involves writing your occupational therapist resume.
If you're stuck thinking what steps you need to take to ensure an effective tool to market yourself out there, you've come to the right place. Let this blog be your guide as you write your own occupational therapist resume!
Tips in Writing Occupational Therapist Resume
Let the hiring manager know you've put time and effort into writing your resume by ensuring it's tailored to your desired job post. Furthermore, heed these useful tips to help you turn your job search tool into something that'll drive worthwhile results for your career!
1. Choose the best format for your resume.
Based on your job level, skills, and background, decide on the most fitting way of how to present your details in your occupational therapist resume. Check out these main formats:
Reverse-chronological – As the most common format, this lets you list your work history and skills, from the most recent to the oldest.
Functional – More known as the skills-based resume, this is the least common type, letting you focus on your skill set more than your experiences.
Hybrid – This format's a mix of the first two, hence the name. Its focus lies both on your skills and experiences.
Targeted – It might be a seldom-used format, but a targeted resume helps you filter only the relevant job experiences and group the unrelated ones below. This allows the readers to focus only on the related details of your work history.
Choosing the right format for your occupational therapist resume is also crucial as to how you will go about the other parts of your job search tool. Note that various resume formats require various details and sections; so don't leave out this step.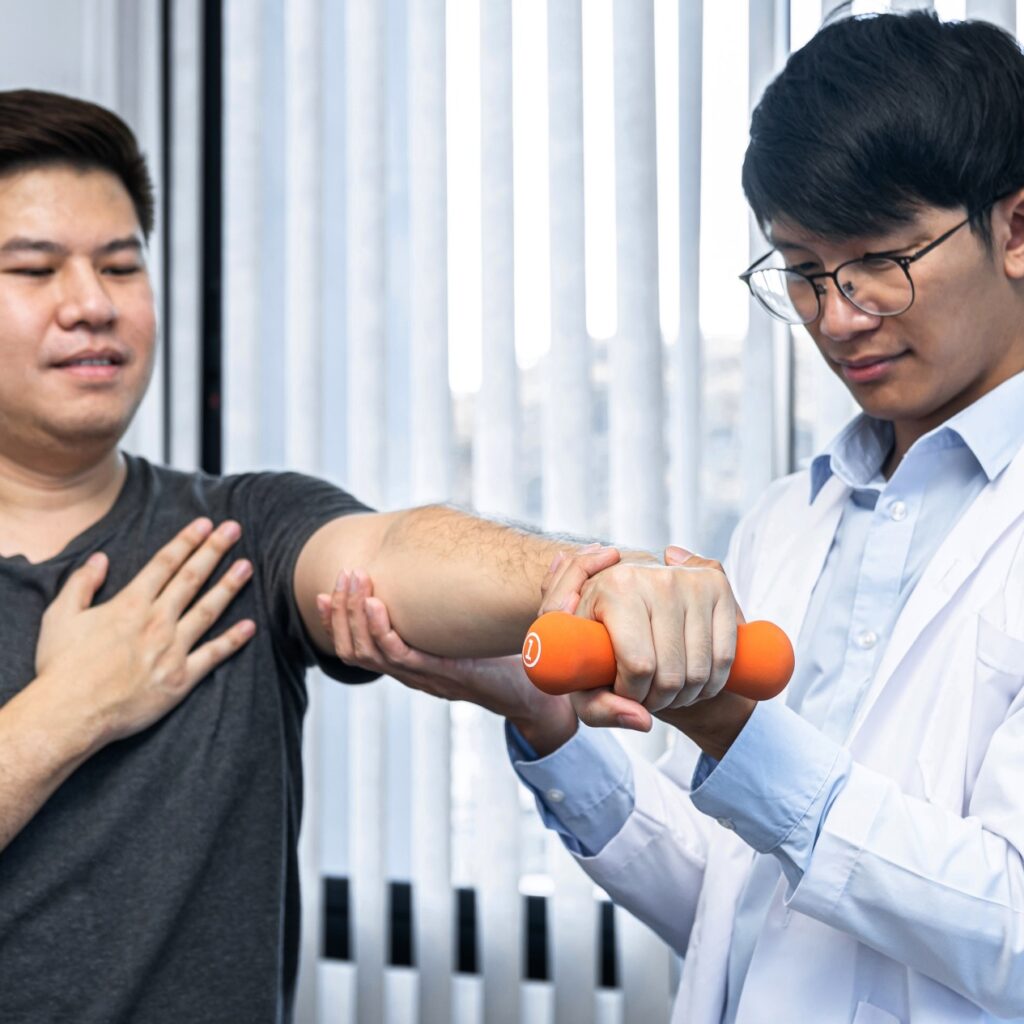 2. Craft your resume profile or intro.
Take advantage of the first few seconds that recruiters and hiring managers spend when scanning resumes by leaving a clear, good first impression. You can do this by writing a striking intro of who you are as a professional.
Your occupational therapist resume intro is a brief section used to sum up what makes you fit for the role. You can go about this by choosing from these options:
Professional summary – This is used to describe your background, traits, and skills to form an elevator pitch that's best to help you explain why you're the best fit for the role of occupational therapist.
Summary of qualifications – This is usually where you state your qualifications related to the job. This type of resume intro is best for seasoned professionals in the field. Unless you've gained a wide range of skills and experiences from college and volunteer work, this format may not be for you if you have little to no work experience yet.
Expert tip: If you're thinking about opting for a resume objective, think again. This is already considered outdated, as resume objectives would often state the obvious of you aiming to land the job you're applying for. Instead of wasting this valuable space in your occupational therapist resume, opt for a focused statement which can help you showcase your branding better.
3. Care for an impactful work history section.
This part must include your past roles that are relevant to the job you're applying for, as well as your past employers, and your years of experience.
You also have to treat this as a key section that'll help you highlight your skills and experiences in a more detailed way. Do this by listing how you helped the company achieve business goals while featuring your top feats.
4. Mention your skills.
Of course, make sure that the skills you'll list are related to what the job needs. To help you come up with the best skills you'll put in your resume, here are a few tips:
List down all your skills. These include your soft skills, hard skills, and technical skills.
Review your target job description and listing to see which skills are required of you to be qualified for the job.
Check your own list and pick those that match the job offer.
Highlight these matching skills in your occupational therapist resume.
Be wise on how you'll present these skill sets in a way that'll help you stand out as a job candidate.
Further, here are the top skills you may consider putting in your occupational therapy resume.
Soft Skills
Problem solving
Communication
Teamwork
Leadership
Time management
Adaptability
Customer service
Multitasking
Hard Skills and Technical Skills
Patient care
Physical therapy
Mobility techniques
Rehabilitation
Patient safety
Performance monitoring
Development of treatment plans
Microsoft Excel
Microsoft Word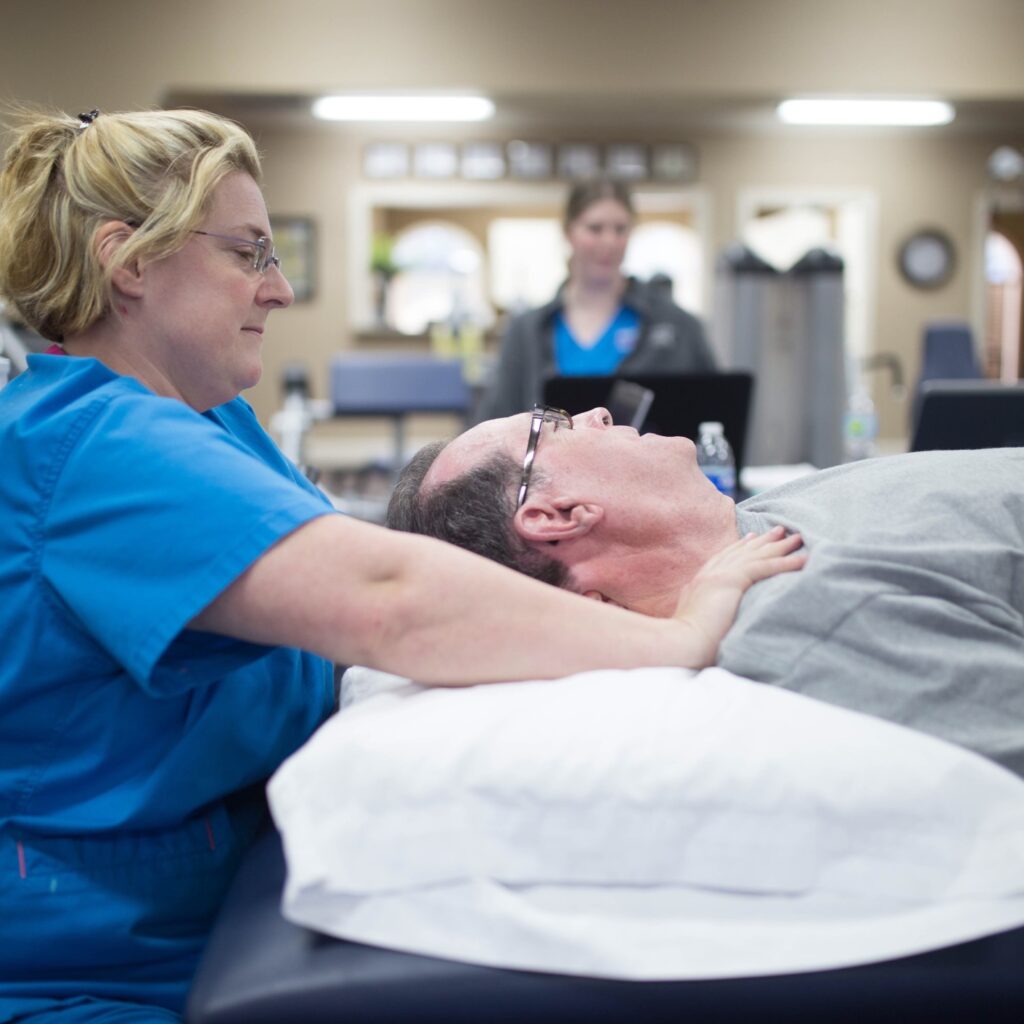 5. Enhance your section titles.
This helps in making your resume look neater and well put. Use ideal font styles and sizes which can help section headings become more distinct.
6. Check how your resume looks like.
After writing your occupational therapist resume, review your layout and format. Keep your font size to 10 to 12 points for normal texts, while you can go for 14 to 16 points for headers and section titles. Also, use bold, italics, and underlining formatting to break up texts and highlight the vital parts of your resume.
Here are some of the best font styles you can use:
Times New Roman
Cambria
Georgia
Didot
Calibri
Verdana
Lato
7. Proofread and edit!
Check for grammar, spelling, and other errors you might have missed while you're writing. You can also consider asking someone to check your resume for you and give feedback on what can be improved.
Occupational Therapist Resume Sample
Check this great sample to guide you in writing your resume: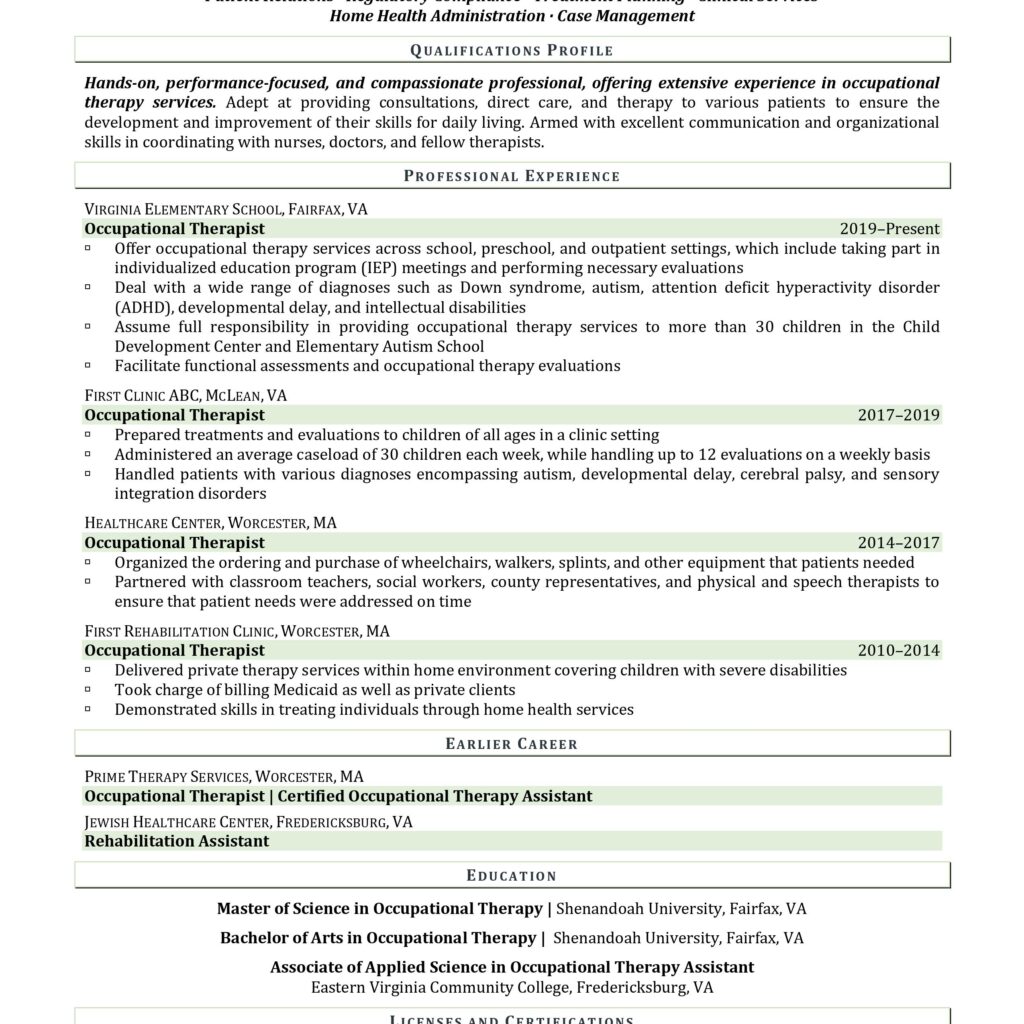 Statistical Outlook of Occupational Therapists in the US
As per the US Bureau of Labor Statistics, the projected job growth rate for OTs is 16% for 2019 to 2029. This means that this is faster than the average for all jobs. True enough, this line of work will continue to be a vital part of the thriving healthcare careers for the years to come.
Ready to Write Your Occupational Therapist Resume?
As much as you have the desire to help other people through your expertise in your field, you also need experts to help you address your job search needs.
Let us take care of your occupational therapy resume while you take care of your other job search efforts. Check our medical resume services and see how we can come up with the right diagnosis for how your resume can help you land your target job!