Becoming a physician is not an easy task. You'll have a few hours of sleep, irregular work schedules, and little leisure time. Yet, even though you'll spend most of your early adult life learning how to save lives, the joys and rewards of this job are worth all the hardships once you see your patients doing well. With a seven percent increase in your medical job outlook in the coming years, you stand to have a secured future! But with all your medical feats, how can you reach greater heights? Resuscitate and bring new life to your career with our physician CV example!
Physician CV vs. Resume: Which Should You Use?
Confused which to use between a doctor resume and a physician CV? No worries, our medical resume writing experts at ResuMeds will explain why you must use a medical CV instead of a doctor resume. Here's why.
A doctor resume can be your marketing tool to persuade your hiring managers that you're the best candidate for the job. Meanwhile, a physician CV offers you more career prospects. As most academic and medical fields prefer CV, it be a vital tool to elevate your career. Aside from job search, you can also use your medical CV when the hospital board wants to review your skills and latest career victories. Likewise, you can submit it to your colleagues when vying for a committee role. With the impact your CV can give to your career, do you see why you must not use just a physician CV builder?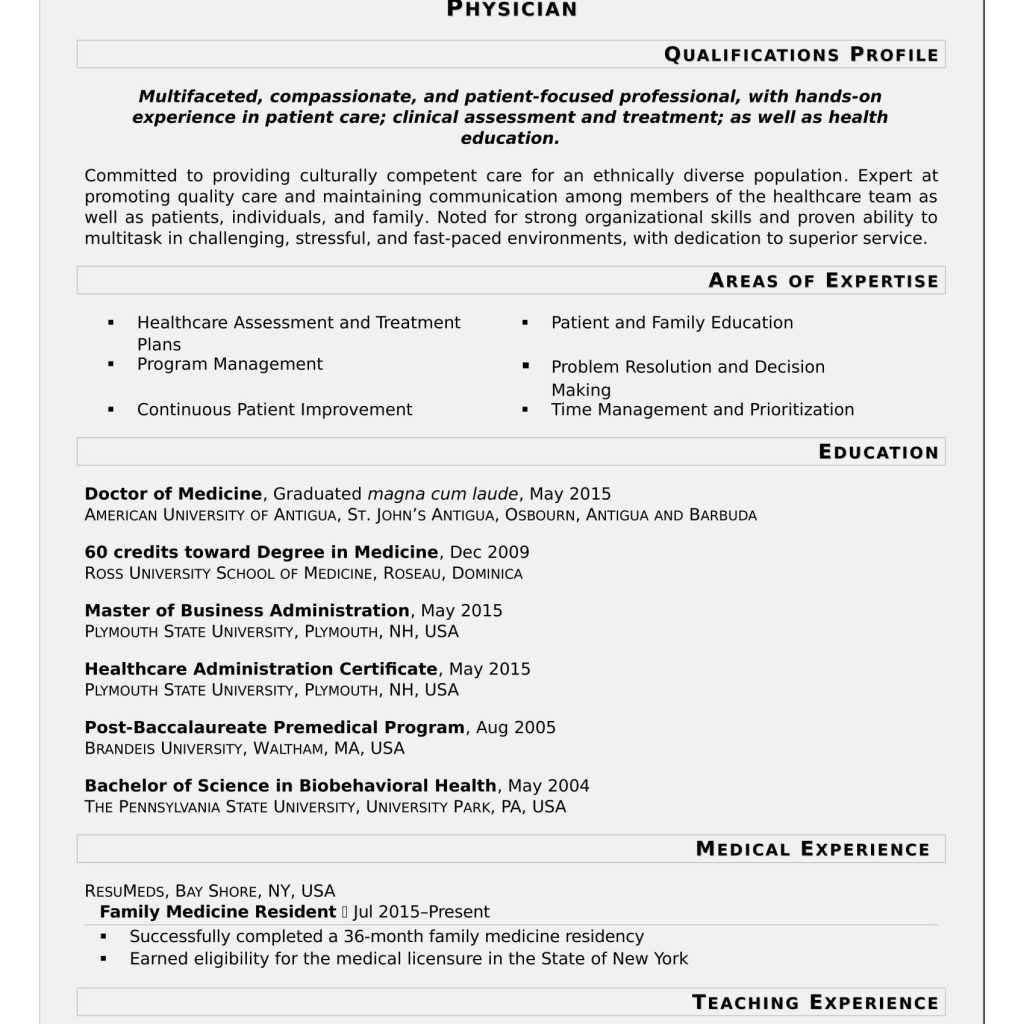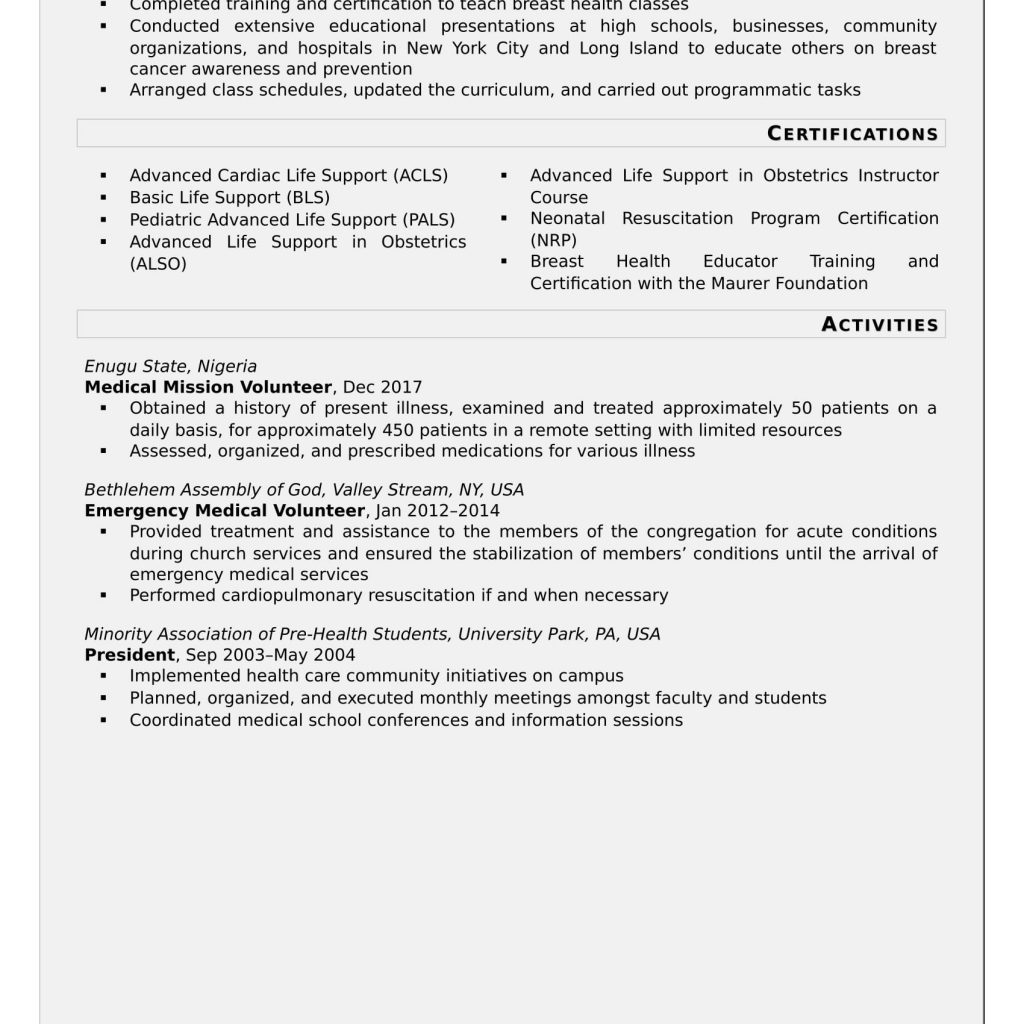 Take it From Our Physician CV Example: What to Include in Your CV
From the name itself, your medical CV contains a detailed account of your career journey. Hence, does yours have the right content and cv format for doctors? Just as you review the health records of your patients before giving them proper care, you must also check our tips before crafting your medical CV. See our physician CV example to learn more.
1. Contact details
Include your complete name, email, and mobile number. Note that these details are essential if you want to receive callbacks from your hiring managers. Make sure to indicate your contact details in each page of your medical CV.
2. Qualifications profile
Since the days of adding an objective section in your CVs have long gone, job seekers started to write down a quick summary of skills and career feats at the start of their CVs. This is a useful way to ensure that your physician CV stands out from the rest and to help hiring managers see your expertise at once. Highlight your strengths to convince future employers that you're best for the job.
3. Education
Adding the education section is integral in your CV for this shows which institution honed your skills in treating patients. Include your Board and MCAT (Medical College Admission Test) scores here. Don't forget to mention the institutions and school credits you've garnered along your way.
4. Experience
As per the American College of Physicians, it's best to list your full-time and part-time job experiences into separate headers. Likewise, you must also write down your medical experiences first, then your related experiences in another section. This way, your hiring managers can easily verify the skills you've placed in your qualifications profile.
5. Licenses, affiliations, and publications
Finding a way to boost your credentials as a physician? Display your achievements, networks, and awards! You may not include physician CV references, but this section can verify your network and skills.
Key Physician Skills
Did you miss any crucial section in your resume? Good thing you've reviewed our records of a healthy physician CV example. But it doesn't end there yet. As you know with sick patients, some symptoms are just by-products of a deeper cause.
With your medical CV, you may have included all key sections, but this does not ensure you'll snag the job you're aspiring. Hence, let's dig deeper and observe which noteworthy skills you must possess! Plus, our CV writers have matched the skills with the common physician job description you might encounter.
1. Decision-making skills
Your decision-making skills can be a do-or-die moment for a patient. Hence, this is a crucial skill every physician must-have. You must be able to think on your feet and take the effect of each decision you'll make responsibly.
Skills match for: aiding patient consultation and physical exams, performing surgical procedures, monitoring patients, and administering treatment, organizing workloads, managing a department, and providing general pre- and post-operative care
2. Leadership and management skills
Doctors may be vital in a hospital, yet it takes a team of healthcare professionals to give the best care. Hence, as a leader, you ensure that each personnel moves accordingly so that every patient receives the best medical care. Your time management skills can also be included here.
Skills match for: organizing workloads, managing a department, and facilitating general pre- and post-operative care
3. Analytical ability
As physicians, you must approach every case with caution and a keen eye for details. To supply proper care to clients, you must observe them closely. Hence, this ability may come in handy.
Skills match for: aiding patient consultation and physical exam, performing surgical procedures, providing pre- and post-operative care, monitoring patients and administering treatment, assessing and planning treatment care plans
4. Communication skills
The hospital is a busy hive for many medical experts and patients. Thus, it's important to maintain a clear and open flow of info to prevent any type of mishap. If you're a physician, you ensure that your talking and listening skills are concise. Not only because your message will be a critical part of the decision-making, but also for the info you will give may prevent the spread of diseases and loss of lives.
Skills match for: Liaising daily with the staff, writing reports and maintaining records, leading a medical team, keeping the team informed about the care of their patients, aiding patient consultation and physical exam, organizing workloads, and monitoring patients and administering treatment
5. Compassion and drive to continue learning
Compassion for patients and the thirst for learning are skills you must have to become an exceptional doctor. It helps you become determined in giving patients the best treatment, as well as having the interest to teach interns and other staff of the team.
Skills match for: Teaching and supervising trainee doctors, promoting medical and healthcare education, and leading a medical team
The Top-Paying States for Pharmacist Jobs
Ready to show the world what you can do? Aside from checking out a physician CV example, head to these states if you want, so you can get the benefit you deserve. The data below is as per the 2018 Bureau of Labor Statistics report for physicians.
| | | |
| --- | --- | --- |
| State | Hourly Wage | Annual Wage |
| New Hampshire | $132.62 | $275,840 |
| North Dakota | $128.13 | $266,510 |
| Maine | $123.82 | $257,550 |
| Montana | $118.87 | $247,260 |
| Minnesota | $117.81 | $245,040 |
ResuMeds' Resume Requirements:
As a physician CV writing service provider, we know how crucial details are to every case assigned to you. The same way goes with your physician CV! That's why we're giving you some more tips on how to improve yours. Check out below.
1. Use the "Challenge-Accomplishment-Result Technique"
When you write your CV, don't just mention your physician job description. Rather, prove to the hiring managers that you fit the bill when you detail your successes using this method. Relate a problem you encountered then, tell them how you solved it using your skills. Answer this question: How did your actions affect the employer?
2. Find the balance in a simple format, brevity, and absolute accuracy
While your physician CV can be more than two pages long, that doesn't excuse you from using short, concise, and accurate words. Just as you need to administer the exact drug dose, your CV must also contain the right keywords to appeal to hiring managers.
Navigating a Physician CV Example
After reading these helpful tips, you're now ready to give your CV a well-deserved update. But if you're pressed for time, or if your CV needs more lift more than this physician CV example, don't hesitate to seek the help of expert CV writers! Our medical CV writers at ResuMeds won't just observe your CV, we'll perform procedures to ensure yours reflects the best of your career. At ResuMeds, we want you to succeed. Let's get started, stat!